A former employee wrote
this
.
Update 3/29: For those still interested, the last two keychains on the Key Party website were Claptrap's eye and a companion cube for GLaDOS. Now we'll just have to wait until Monday to see how much information on Poker Night 2 Telltale plans to release, and if the Key Party theme actually ties into the game somehow.
Update 3/27 #2: It turns out it is indeed Poker Night 2. The box art and screenshots have been found on the xbox.com website. So, it seems the game will be available for at least PC/Mac and Xbox 360. The characters are Sam, Brock, and Ash (as already revealed), as well as Claptrap from Borderlands 2 (rather than Handsome Jack as previously assumed). GlaDOS from Portal seems to be taking the place of Reginald Van Winslow as the host.
Update 3/27: The Key Party site now has a keychain with the Necronomicon for Ash.
Update 3/26: The website hasn't been updated yet but the key was revealed on Adult Swim, and retweeted by Telltale. As expected, it's Brock from Venture Bros. (the keychain of his big knife, which will also be a Team Fortress 2 unlock). It will be interesting to see what keychains they use for Evil Dead's Ash, Borderland's Handsome Jack, and Portal's Chell, Wheatley, or GlaDOS (that one's harder to pinpoint, since the boots can belong to any of them).
Update 3/25: The first key is up, and it's a key to a DeSoto. So, that means it's Sam's. So it looks like The Key Party is indeed the Poker Night sequel (which the background for the key text pretty much gave away anyway as it matches Poker Night's user interface). Although whether it's another card game or an entirely new genre altogether is still up in the air.
Original post 3/22
: Telltale has unveiled a website called
The Key Party
. The website claims that the answer as to what The Key Party is will be revealed on April 1st.
However, we'll most likely get some clues before hand, since if you mouse over the key, you'll see that the "guests will start to arrive March 25th, 2013".
So what is it? Poker Night 2? Fables? King's Quest? Theodore Dudebrough's Excellent Adventure? Your guess is as good as ours.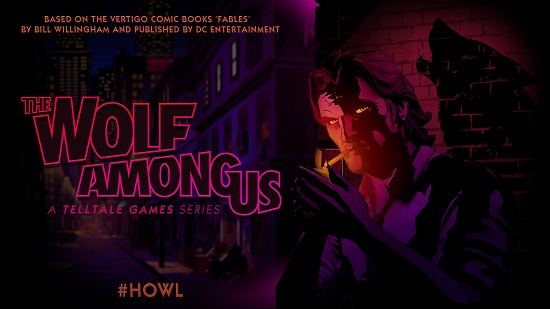 The Wolf Among Us press release is now out with a bit more info about the upcoming series:
Telltale PR
Set prior to the events seen in the first issue of the FABLES comic book series, The Wolf Among Us puts players in the role of Bigby Wolf, a man once more infamously known as The Big Bad Wolf. Now the sheriff of a hidden community in New York City, exiled from the land of fairy tales, Bigby is tasked by the bureaucrat Snow White to keep order within a society of mythical creatures and characters trying to remain undetected in the world of the mundane. From a chain-smoking member of 'The Three Little Pigs,' to a car-stealing Mr. Toad itching for his next wild ride, The Wolf Among Us examines the lives of beings straight from the pages of myth and lore, now trying to survive on the meanest and most run-down streets of New York City.
Remember the original Host Master? Of course you! Benedikt Hummel and Marius Fietzek have created a sequel that you can now play for free over at the Double Fine website, so go play and see if you can get Tim to the stage in time to deliver this year's speech!
Telltale's game based on Bill Willingham's Fables comic now has a title. It's called The Wolf Among Us, and it's set to come out on Xbox 360, PC, Mac and PlayStation 3 this summer. As previously reported, players take on the role of Fables' Big Bad Wolf, Bigby Wolf. However, more has been revealed (including some of the "Fables" you'll meet in the game). Bigby will try to keep fairy tale characters including Mr. Toad and the Three Little Pigs undetected in our world.
According to IGN, more news on The Wolf Among Us will be revealed in the coming weeks.
Joe Martin, who last August wrote an excellent retrospective on Habitat, has posted a new episode of his podcast Unlimited Hyperbole. In this instalment, he interviews Brian Moriarty, creator of Loom and an early version of The Dig.
If you're interested in his games and cancelled LucasArts titles, give it a listen!
The Fables convention in Rochester, MN is over now, and people who visited the Saturday panel got a first look at Telltale's Fables game.
The rest of us will get a look at the game when Telltale has their official reveal on Wednesday. But, until then The LA Times has an article about the Fables convention that has some information about the game:
"Fables" fans also got to see their favorite winged monkey librarian take flight Saturday during Telltale Games' preview of the upcoming video game set in the comic's world. The title won't be announced until Wednesday, but Telltale's Richard Iggo said gamers would play as Bigby Wolf, that there would be new characters and that the story is set before Issue 1 of the series. He said players will feel the "narrative clock ticking" in the game, and that outcomes are not determined only by choices, but also by the timing of those choices.
"We've always strived to see the players of our games … as the last collaborator in the creation of the story," he said.
Willingham said the game is canon, and there are ideas Telltale originated that he wants to "steal" for future "Fables" issues.
Another Double Fine game gets a name change, as Dischord becomes Dropchord. And with the name change comes a reveal trailer.
For those who don't remember the
announcement of the game last month
, Dropchord (another game developed thanks to
Dracogen
's investment in Double Fine) is a music-driven "dexterity-requiring puzzle game" that utilizes the
Leap Motion Controller
.
Players stick two fingers into the roughly two-foot sensor zone of the Leap, making two glowing spheres appear on the screen. Once players lock those spheres into place on the level's circular track, a beam of light appears between them, which players then must navigate around a series of obstacles that appear within the circle, potentially interrupting the beam.
There are nodes you can collect to increase your score, and hazards you must avoid, which you do entirely by moving your fingers around the circle and maneuvering your beam. Certain sections require you to paint large portions of the circle with your beam, which you can do by flicking your finger around its perimeter.
According to a Polygon interview at PAX East (where the game premiered) with Double Fine's Patrick Hackett and Drew Skillman, Dropchord will be a launch title on the Airspace app store, the distribution platform for software designed for the Leap (which means the release should be on or around May 13, as that's the day the Leap is released to people who pre-ordered the controller). It will also be on tablets and smartphones after its initial Leap launch.
Double Fine Adventure is now called
Broken Age
.
It's a story of a boy and a girl living parallel lives. The girl has been chosen by her village to be sacrificed to a terrible monster--but she decides to fight back. Meanwhile, a boy on a spaceship is living a solitary life under the care of a motherly computer, but he wants to break free to lead adventures and do good in the world.
If you missed the kickstarter, the game can be pre-ordered from its website. You can either preorder the game (DRM free) for $15 for Windows, Mac, and Linux and get access to the beta once it's available. Or pre-order for $30 to become a backer. Backer status includes the game, private backer-only discussion forums on Double Fine's message boards, all past and ongoing episodes of 2 Player Productions' documentary series following the development of the game, a wealth of development materials from the Double Fine team, a digital soundtrack, and beta access once available.
Here's some small bits of Mojo related news for the month of March:
First of all, the first look at Telltale's upcoming series based the comic book series Fables will take place at the Fablescon in Rochester, MN this Saturday during a panel with Richard Iggo from Telltale and Fables creator Bill Willingham. The two will reveal "a few visuals from the game, and give away as few secrets as they can hold on to."
Secondly, do you remember the Indiegogo campaign for Dominique Pamplemousse in "It's All Over Once the Fat Lady Sings!", the black and white claymation detective adventure game presented as a musical with singing by Deidre Kiai (former programmer on Deathspank and even further back a former intern at Telltale Games)?
No? Well, you'll get a chance to rectify that and buy a copy for yourself on Windows, Mac, or iPad on April 1st. If you were one of the lucky who backed the Indiegogo campaign at a tier high enough to come with a copy of the game, you are even more lucky, as you are able to get it now. Check your e-mail, since you should have already received a link to get the game.
I've played it, and I can attest that it's well worth the money. Play the demo and see if the musical style fits your tastes. If it does, don't hesitate to buy it once it's available, since the story and detective style dialog-based puzzles are excellent.
Interested in finding out more about Scurvy Scallywags in The Voyage to Discover the Ultimate Sea Shanty: A Musical Match-3 Pirate RPG, the upcoming iOS game by Ron Gilbert and Clayton Kauzlaric?
If so, you're in luck. Ron Gilbert made a post on his blog with screenshots and info about the upcoming pirate themed puzzler.
It's modeled after Realms of Gold, a previous puzzle game by Ron and Clayton that used to also have RPG elements before the publisher told them no one would be interested in an RPG puzzle game. In both games, you match up three puzzle pieces (like Bejeweled), but the new pieces don't just come from the top, but can come from the sides or bottom as well. However, the gameplay in Scurvy Scallywags has changed, as it's no longer the type of piece that dictates which direction the board collapses, but which direction you swipe your finger on the screen. Also, unlike other puzzle RPGs like Puzzle Quests, Scurvy Scallywags will also place your character right on the game board, and have him or her fight enemies in battle.
There are items to collect, such as hats, shirts, heads, and swords to dress up your pirate. There are also ships to build. Most interestingly, though, you can also collect a sea shanty which is sung by real life pirate singers.
The game is planned to be released "in the next month or so", and an Android port may be coming as well, if everything goes to plan with the compiler.
Remember that interview that said that Telltale is working with Warner Bros. to release Poker Night at the Inventory in 2013? It seems like there might be something to it after all.

There are some items released in the latest Team Fortress 2 update that contain the PN2 prefix. Softpedia and a smattering of fans think they are related to a Poker Night 2, since they contain the PN2 prefix. The items are Sam's hat from Sam & Max, Handsome Jack's mask from Borderlands 2, Ash's crown from Evil Dead, Chell's boots from Portal, and Brock Samson's knife from Venture Bros.
But that's not the only piece that fits into the Poker Night 2 puzzle. "Poker Night 2 Early Access Comp" has been added to the Steam Database. Additionally, a Steam Group for the game's id is available, but not yet active.
So it does seem like we'll be getting a sequel to Telltale Texas Hold'em's spiritual sequel soon.
The community's glory days bore a horn o'plenty of great LEC fan sites, on that we can all agree, but I think my favorite was The LucasArts Museum. You know, the one that endeavored to collect, index and photograph the boxes, manuals, game media, inserts, and all manner of increasingly frivolous and obscure paraphernalia associated with every release version of the LEC adventure games?
As an obsessive myself, that site was my jam, but whenever I'd visit the forums I felt way out of my league. It was both enjoyable and immensely intimidating to peruse threads and see people distinguish between versions based on LFL file datestamps, argue over which pressing a floppy disk label denoted, discover some hitherto unknown budget release of Full Throttle available only from the back of a magazine, and ask for a ballpark on how much the copy of Zak McKracken they stumbled onto at a garage sale was worth on eBay.
Want the latest news on the development of Ron's new game? There's now a new twitter feed up for Scurvy Scallywags in The Voyage to Discover the Ultimate Sea Shanty: A Musical Match-3 Pirate RPG, or SSTVDUSS:AMMPRPG for short, available over here where all the latest development news (code-wise) is posted.
Sources close to Kotaku, presumably the same ones that recently revealed Star Wars 1313 is on hold, are now claiming that Star Wars: First Assault, that Battlefront-sounding XBLA shooter that was never officially announced, is no longer assured an existence.
The real scoop is that First Assault was in fact intended to be a sort of proof of concept for a Star Wars shooter running on the Unreal Engine, the success of which will directly lead to Battlefront III. The story is that LEC intentionally kept that brand off of this downloadable multiplayer game, which is nearly finished, "so expectations wouldn't be too high," and would have followed up with the long-awaited sequel.
Well, that was once the idea, anyway. Despite intending to release a closed beta of First Assault in September (which ties in nicely with October's minimal leaked reveal of the game), it seems that LucasArts has pretty much halted all their projects in the wake of the Disney acquisition. The reasoning? Apparently, there may be a sense that the Lucasfilm slate needs cleaning, a theory that the recent cancellation of Clone Wars and a second planned Star Wars TV show certainly seems to support. I'll bet the powers-that-be want all the focus to be on the new film trilogy.
Meanwhile, amidst all this uncertainty and decisions pending, hiring has frozen at LEC and employees have apparently been departing the studio in droves, so what will become of First Assault, 1313, and I guess whatever the hell else LEC has allegedly been up before the last menstrual cycle is an unknown. The author and the commenters seem primarily concerned about the effect LEC's potential euthanasia would have on the integrity of the Star Wars game franchise, which I don't mind telling you is exactly the kind of laugh I needed today.
Oh, and Kotaku also has some leaked footage of Star Wars: First Assault if the prospect rings your chimes.
Tired of hearing us say the same old, predictable, boring truth about LEC? Then let
IGN
tell you for a change.
LucasArts has had no fewer than five bosses in the last eight years, and none of them – not Jim Ward (2004-2008), Darrell Rodriguez (2008-2010), Paul Meegan (2010-2012), or the current pair of interim co-presidents, Kevin Parker and Gio Corsi – have been able to set a consistent vision for the company. They've grown. They've shrunk. They've dabbled in digital titles and then stopped. They've tried to create blockbusters and then given up.
The
article
goes on to get other things spot on. Not that it matters, I guess.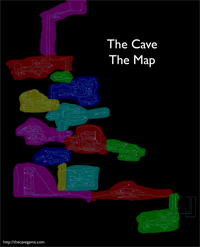 Ronzo "Ron" Gilbert announced yesterday on his blog that he's leaving Double Fine as The Cave is now completed. He also shared the image on the left of the complete map from the game.
His next project will be a game for iOS that he's developing with DeathSpank co-creator Clayton Kauzlaric called Scurvy Scallywags in The Voyage to Discover the Ultimate Sea Shanty: A Musical Match-3 Pirate RPG. We're supposed to see some screenshots appearing over the next few days.
bgbennyboy, owner of Quick & Easy Software and creator of several explorers and the famous USB ejector, has released a new program called DoubleFine Explorer. As the name suggests, you can use it to explore the innards of various post-Psychonauts Double Fine games and extract titbits you may find useful.
Peter McConnell, who composed for most of the classic LucasArts adventure games as well as for several Double Fine games, have been interviewed by the Super Marcato Bros in the season 2 finale of their video game music podcast. Head over there to listen to his insights and stories as well as some good music!
We have a new podcast up, titled 'The Mixnmojo Campfire'. It's with the same team as the cook-chase, but the format is a bit longer and more relaxed. In this edition, we talk about Indie adventure games -- specifically Daedalic Entertainment and Wadjet Eye, as well as related sub-topics: tone, voice acting, gameplay, etc.
We are joined by the bearded Paul Franzen, who wrote the Indie adventure game Life in the Dorms. He is also founder and editor of Game Cola and writes a blog about yard sales.
The eBay item featured in our regular feature 'I found it on eBay' can be observed here.
Listen below, and, as ever, please get in touch with messages / interventions by commenting on this news post, or e-mailing us at podcast [at] mixnmojo.com
Download
here
or subscribe on
iTunes
. The episode was edited and produced by Zaarin.
Telltale producers Kevin Bruner (also co-founder) and Kevin Boyle had a little chat with God Is A Geek to discuss what's going on at their adorable little company.
The two offer their theories as to why The Walking Dead was the project that cranked awareness for the near decade-old studio up to eleven, prove to be immune to attempts to have plans for the second season teased out, and of course mention Fables (real title pending), which is now the company's project of focus.
We've been working on it for a while, we haven't talked much about it because The Walking Dead has been the big game for us. But we'll be definitely talking more about that over the next couple of weeks. It's looking amazing. It looks like an ink graphic novel come to life. So it's got a very distinct look and it takes some of the things that made The Walking Dead special, and kind of evolves them further.

And you know, it's not zombies, it's Bigby Wolf in Fabletown in New York, so a whole different set of circumstances, but a lot of similar feeling of what you got from playing The Walking Dead, you'll see in the Fables game.
So, be ready for that.
I mean, if the Kickstarter for A Vampyre Story: Year One wasn't fairly close to launching like, totally for real this time, why else would Bill be offering this little clip of animation for the pitch video? Just to hurt you?
In his narration, Bill states that "hopefully in a week we can give it to Pedro to do the sound and music," so this thing is clearly in the birth canal. You clowns better not have blown all your disposable income on Ragnar Tornquist. >:
Only a week after their last one, Rock, Paper Shotgun hit up Tim again to discuss all things Brutal Legend. The resulting article reads like a dense post-mortem of the game, and I don't think the bevy of behind-the-scenes dirt Tim reveals is entirely retread, so do dig in.
Tim also conveys the oft-told story of how the uncertain aftermath of studio's last massive scale release led to the more experimental approach we've enjoyed from them in recent years:
"We wanted to do smaller games for a lot of reasons, but it's hard to get that started when you don't have to," Schafer admitted. "Those resources always get sucked into the big game. We were like that kid sitting on the edge of the pool going, 'Uh, I want to get in, but it looks cold.' Then some big bully kicked us in, and then we were really happy. It all worked out. We've done Amnesia Fortnight ever since them. We did it publicly this year."

"When you're strapped to the front of that giant rocket, you don't have much control. It's an exciting ride, but you aren't steering anything. That's one of the reasons I started the company, for control. I was part of a big publisher in LucasArts and I could do a lot of things that I wanted, but there were still bigger entities that controlled what I did. Not that I control every single game and everything that's going on here. Other talented people are controlling things as well. But we control our own destiny. We can choose what we do and what we don't do. That's been great."
Hooray for bullies.
Kotaku has a
large write-up on the status of Star Wars 1313
, with inside sources claiming the game has been put on hold since the Disney acquisition in November 2012. Official sources are saying production is continuing.
In what will surely drive fans of great Star Wars games a bit mad, Underworld/1313 was, we're told, originally going to be an open-world role-playing game similar to the beloved BioWare title Knights of the Old Republic but with episodic character updates delivered regularly over DLC. Story arcs would go to some dark places, touching on terrorism, the dealings of crime families and prostitution.

We're told that the game was scaled back in 2010 after budgetary concerns put the TV show on hold. The game was re-written with a new story that was disconnected from the TV-show material. And this is where what our sources say gets even more interesting. LucasArts supposedly was set to reinvent itself in 2011 under then-studio-president Paul Meegan, attempting to make Star Wars-style games in popular genres. There would be a Star Wars riff on FarmVille and a Call of Duty-style first-person shooter codenamed Trigger.
Screw Star Wars 1313, where's my
Tattooine Moisture Farmville
game!?