For those who don't Twitter: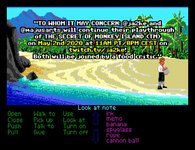 That's two hours from now, so find a comfy chair.
What could possibly be better than watching Jake and Marius's [and Dom's] Twitch stream yesterday? How about reading us watching it?
It's the third installment in our Excerpts from the Slack series, and it's available here in a global launch for all browser platforms.
UPDATE: It's over now, and it was excellent. Dominic Armato showed up about 90 minutes in, and the gang played through the Three Trials section before adjourning. If you missed it, you can watch the entire three-and-a-half-hour stream here. Stay tuned to Jake's Twitter to find out when they will schedule the continuation.
I dunno how all this "Twitch" stuff works, but I always credit the Mojo readership with being hipper than I, so here goes. Jake informed the world yesterday that he and designer Marius Fietzek will be streaming their playthrough of The Secret of Monkey Island through his Twitch channel. If listening to Jake talk about the game for hours was on your bucket list, I'm happy to say you can die soon.
It all starts streaming at https://www.twitch.tv/ja2ke? come 11AM PT/8PM CEST. That's a little under than two and a half hours from now. Be ready.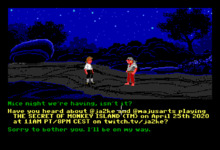 It just isn't Lent without an anniversary of the cancellation of Sam & Max: Freelance Police.
Kind of weird to keep marking it every year like a bunch of creeps, I'll admit, but Mojo never was good at letting things go, and the event is, for better or for worse, an inextricable part of the site's history. And we'll be exploring that link in some depth soon.
I've recently let the cat out of the bag that we're at work on a big fat Sam & Max 2 feature. And when I say this article has got a calorie surplus, I'm talking President Taft, here. And we can't wait for you to see it, but unfortunately we need even more time to address a few...complexities...between now and publish time. And, to be frank, some of them were pretty darned avoidable. I don't why, for example, Remi insisted that the totality of the White Album be licensed for continuous streaming on each page of the article, but there's just no getting him to budge on his artistic principles. Your patience is appreciated.
In the meantime, make the most the occasion by reheating a Glazed MacGuffin or two and getting your pre-order of those deluxe figurines in. And have a thought for a graphic adventure that was guillotined amidst that bloody period of revolution in the Spring of 2004.
When they're not productively pondering what makes the Indiana Jones movies problematic, Vice Magazine can apparently find time to dash off the odd Loom retrospective.  And they're pretty good at it!  Check out their newly published appreciation for Brian Moriarty's spellbinding point 'n click classic in honor of its 30th anniversary.
Now for somebody to get the EGA version of the game commercially available.
So back in July, the official Arby's Twitter posted this.
That is a real thing.
Not sure what I can really add to this. I knew Stan was a whore, but...social media?
I'd make a smart aleck comment about how Arby's is doing more to promote Monkey Island than its actual copyright owner, but what point would I really be communicating? Everyone, by definition, is doing more to promote Monkey Island than its copyright holder.
J'accuse! See Stan there? That's shamelessly stolen from the venerable SCUMM Bar. How do I know this, you may wonder. Simple. Notice Stan having a black something or other coming out his mouth. When Skyfox created that animation for TSB, he did it by hand, capturing each frame manually, removing the background . . . All while thinking Stan was smoking a cigar, when it was actually part of the background. Arby's, have you no shame? - Remi
Always nice to see Humongous get some love. The good folks over at Vice have put together a lovely history of the studio that brought SCUMM to kids with the likes of Pajama Sam, Freddi Fish and Putt Putt. The article contains new quotes from Ron as well as Humongous designer Tami Borowick, so do check it out.
And don't forget that the old Humongous titles are readily available these days, just like all the other SCUMM games, now that I mention it. And no matter how jaded you've become about this world we live in, that's a pretty rad thing.
The tenth anniversary of A Vampyre Story came and went this past fall with little incident. As you may know, Bill Tiller's planned gothic saga has been in limbo due to frustrating rights issues - while Bill owns the IP itself, the distribution rights to the original game and its long-stalled sequel have been tied up with German-based publisher Crimson Cow Games.
But judging by the update Bill posted to the AVS Facebook page today, the Denver boot is finally off Mona de Lafitte:
Hi all. Good news, I have all the rights to A Vampyre Story back! Over this summer I will be trying to figure out the best strategy for moving forward so I can get the sequels and prequels funded. If you have any suggestions or funding ideas contact me at billtiller@gmail.com
It's unclear if the rights have simply reverted to Bill or if a blood sacrifice was involved to make this happen. We look forward to covering the quest to get AVS2 funded and back on track. In the meantime, it's always a good day when an IP and its creator are reunited. Congratulations, Bill!
Our thanks to reader Threepwood4life for bringing this to our attention and in the process bravely outing himself as a person who reads Facebook.
I can't really set this up, because I obviously haven't taken the time to watch it (yet), so, um, cleave tight to your Grail Diary and...Dig in? Or something.

It seems like only last freaking May that Boss Fight Studios announced their license to produce collectible Sam & Max figurines. Seeing as it's the only upcoming Sam & Max thing in existence, you'd think I'd be more grateful for the fact that we can keep dragging the coverage out.
But not for much longer! Earlier this week, the full Sam & Max toyline was finally unveiled, and I have to say it looks pretty rad. Furthermore, "These premium action figures will be offered in attractive window box packaging with new illustrations and a new comic strip by creator Steve Purcell!" New comic? I guess there are more Sam & Max things to look forward to after all.
The bad news: the release date is "TBD" 2019. The good news: Zaarin assures us that he's got just enough window caulk to keep the Mojo servers humming until TBD, give or take a downtime.
Hard to believe, but in less than two weeks it will be the fifteen-year anniversary of the cancellation of Sam & Max Freelance Police and the death of LucasArts.* I was pretty sure that the occasion would come and go without incident, because really, what left is there to come out about the game that we haven't already covered in our big informational round-up article?
As it turns out: some cutscene storyboards! Last month, artist and Grickle creator Graham Annable (who served as Lead Animator on Freelance Police) tweeted that he had found a "whole stash" of storyboards for the assassinated adventure game, and shared an enticing photographic peek as proof. The storyboards reveal that Bernard and Hoagie from Day of the Tentacle were set to make cameo appearances in the game sometime before marketplace realities invited them to go to hell.
You'll want to read the whole Twitter thread, wherein Annable estimates that the game was "80% completed" and is encouraged by some dude to have his unearthed storyboards scanned and/or donated to The Strong Museum. Not sure if any progress has been made on that front in the month that has passed since the tweet (shut up), but it's safest to assume those photos are the last Sam & Max 2 thing you'll see until someone leaks a playable build of the game while the grown-ups aren't looking. Hey, if it can happen with Warcraft Adventures…
*True, the studio didn't technically die for another eight years, but only the most cynical person would call what LucasArts was doing between 2004-2012 "living".
According to Variety, Ad Hoc studio has been founded by four former Telltale designers to continue the narrative game legacy into the future.
The four founders are Michael Choung, Dennis Lenart, Nick Herman, and Pierre Shorette. That's some heavy hitters right there. Hopefully, this batch of creative awesomeness leads to some excellent titles in the future. They're interested in developing live-action interactive narratives, which could be interesting.
Or maybe they'll be like Telltale and hone their craft on Sam and Max. One can only hope.
Mark Ferrari, one of the most important LucasArts artists during the early SCUMM era, has relaunched his web site, and you have reason to be exited - I particularly want to draw your attention to the Image Archives section, where Mark is hosting rare samples from his older work. JP has already been fomenting an irresponsible tizzy on Twitter (but not here, for some reason ¬) by suggesting that some of the screens may belong to an unreleased Star Wars adventure game.
So check out Mark's new site, which he promises is merely a work-in-progress. And unlike Mojo, it may actually graduate from that status at some point.
This had been acknowledged on Twitter during the downtime, but I figured the passing of British actor W. Morgan Sheppard merited front page mourning. The Mojo faithful will recognize him as the voice of Guybrush Threepwood's loyal if reckless navigator Ignatius Cheese, who is additionally revealed to be the owner of The SCUMM Bar*, in Escape from Monkey Island. He was also that one guy from The Prestige, among about a thousand other roles. Sheppard was 86.
*In fact, I considered titling this "Owner of The SCUMM Bar dies", but that seemed in poor taste given that people might have interpreted that as being Remi, and why get people's hopes up?
Friendly reminder: Given the studio's uncertain future, you may want to re-download your past Telltale orders while their servers still hum. Simply head over to https://telltale.com/account/games, log in to your old account, and archive your collection.
The word on the street is that Telltale had recently updated their older titles to be DRM-free. I'm hearing that this is true for all their games from Telltale Texas Hold'em through The Walking Dead: Season 1. While I can't personally vouch for whether this is true in the case of every one of those titles, it certainly has been true for all the oldies I've tried so far. (By the way, turns out Sam & Max: Season 1 is still pretty great.)
Obviously, this only applies if you purchased your games directly through Telltale rather than some other outlet. (And if that outlet was GameTap, you're probably too embarrassed to admit it.) So if you're not one of those poor dopes, get those installers now and worry about when you're going to use them later.
Since Telltale ate its gun last Friday, social media has seen a lot of heartfelt reminiscing from the quasi-late studio's ex-employees and collaborators, among them Jake, Bay Area Sound, and voice actress Melissa Hutchison. Today, via Facebook, Steve Purcell has added his voice to the eulogy with the following statement:
I honestly don't know what to make of the circumstances surrounding the massive Telltale Games layoffs. I'd just like to offer a sincere thanks to all the creative people who contributed to the smart development, marketing and distribution of the Sam & Max series of games, shorts, store items and the Telltale edition of the comics that were all carefully crafted over several years. I always felt that Sam & Max were in caring hands during their ongoing run at Telltale and I'm proud of the products that went out into the world bearing their name. Thank you.
It's hard to disagree with his view -- Telltale did right by Sam & Max. And while it would have been nice to have seen more games starring them since 2010 (cripes, has it been that long?), there's no denying that under Telltale's stewardship, we got a ton of great Sam & Max content following ten years of nada. That resurgence came not just in the form of the games, but in the Surfin' the Highway and animated series re-releases, killer schwag and other assorted paraphernalia. Man, remember the old Telltale Store? The one that used to: sell stuff?
Speaking of which: Steve, if you're reading this, any chance of re-issuing that old Desoto T-shirt? My 2006 incarnation and I do not have shirt sizes in common.
While the enduring characters keep an eye out for a new game developer to license themselves to, Sam & Max have been busying themselves with being made into collectible toys. As a loyal reader of Mojo, you already knew this.
Today, Boss Fight Studio (the company manufacturing the collectibles) has offered a first look at the design. They stress that the below rendering is a work-in-progress, but it's surely the kinda progress I can get behind: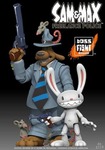 A glass-is-half-full personality is going to zero in on the positive elements of this new interview with Bill Tiller courtesy of the rakish charmers at Arcade Attack. After all, it offers delightful career anecdotes from one of the industry's best artists, including his time back at LucasArts (and the attendant travails under Randy Breen).
Unfortunately, it also offers this:
Do you think you will ever work on a new Vampyre Story game?

No, I have given up. I can't raise enough money to do it and I don't own the computer game rights, though I own all other rights. But I will do A Vampyre Story graphic novel next year. I am bummed we never got to do the sequel, so I'll tell the whole story of Mona and Froderick through that medium instead.

[...]


What projects and games are you currently working on?

I was just working on a side scrolling game based on an idea I came up with called Miskantoic Mary, but I couldn't devote enough time to it, so we cancelled it. I'll make that into a kids book I think. Now I am looking for a full-time job and freelance work. I think I am done making my own games. They just didn't make enough money and were very stressful to make. I'm off to do kids books, comic books and to work full time at a reliable game company.
Despite the headline, I don't honestly blame this turn of events entirely on Zaarin's failure to relaunch the Mojo forums by now after a clear mandate to do so, but let's face it: his dereliction of those duties probably did nothing to help.
One silver lining in all this grief is that we intend to celebrate A Vampyre Story's tenth anniversary in some way before the year is through, so look forward to that.
Updated:
Added Thimbleweek Park figures and some comments from Ron Gilbert.
A recent leak in Valve's Steam API has allowed clever people to extract the number of players of particular games, for the first time ever. In an article published on technology site
Ars Technica
, precise player estimates for 13,000 titles have been shared. Of note are titles published by DoubleFine, TellTale and, of course, LucasArts.
Note: The list shows the number of people who have
played
a particular game since achievements were added to it (so older games that had achievements added later will have higher scores than shown). And crucially, the list does not show the number of
owners
(which will be higher than the players).
In the publishers that Mojo readers are interested in, there are some predictable results and some surprises.
From most popular to least, the list is topped with TellTale's most popular license, beating even the most popular Star Wars title:
The Walking Dead
- 2,846,244 players
STAR WARS Knights of the Old Republic II - The Sith Lords
- 1,529,038
But hot on their heels are the two biggest Double Fine games:
Brutal Legend
- 1,235,714
Psychonauts
- 1,207,186
After that Campo Santo (well done!) and TellTale make an appearance:
Firewatch
- 959,053
Poker Night at the Inventory
- 952,378
Poker Night 2
- 671,540
Given the popularity of the Poker Night games, it does make you wonder why TellTale stick to licenses, especially when we drop down and find the bulk of the adventure titles:
Game of Thrones - A Telltale Games Series
- 598,965 players
Grim Fandango Remastered
- 516,584
Broken Age
- 419,666
Minecraft: Story Mode - A Telltale Games Series
- 346,763
Costume Quest
- 341,308
Monkey Island 2 Special Edition: LeChuck's Revenge
- 288,297
Batman - The Telltale Series
- 272,720
Game of Thrones
- 272,599
The Cave
- 271,663
Day of the Tentacle Remastered
- 265,169
Stacking
- 248,039
The Walking Dead: Michonne - A Telltale Miniseries
- 197,450
MASSIVE CHALICE
- 161,770
Gemini Rue
- 130,615
Iron Brigade
- 109,286
And then, for some comparison, several indie adventure titles, including Ron Gilbert's Thimbleweed Park, and a big shock at how far down DoubleFine's last adventure game remaster is:
Thimbleweed Park
- 98,491
Batman: The Enemy Within - The Telltale Series
- 80,154
The Blackwell Legacy
- 79,474
Marvel's Guardians of the Galaxy: The Telltale Series
- 69,783
Full Throttle Remastered
- 61,757 players
Costume Quest 2
- 57,457
Leisure Suit Larry in the Land of the Lounge Lizards: Reloaded
- 56,138
Blackwell Unbound (Blackwell 2)
- 52,347
Blackwell Convergence (Blackwell 3)
- 49,385
Blackwell Deception (Blackwell 4)
- 46,844
Headlander
- 44,476
The Shivah
- 38,128
Blackwell Epiphany (Blackwell 5)
- 20,146
Also surprising is how a sequel to DoubleFine's most popular Amnesia Fortnight title, Costume Quest, performed so poorly when compared to the original. This explains why there were no similar attempts at sequels.
Finally, perhaps unsurprisingly, is the VR only title:
Psychonauts in the Rhombus of Ruin
- 2,155 players
Are adventure games dead? You decide.
UPDATE
Thimbleweed Park figures have been added (I searched for them before, I swear!), and
Ron Gilbert
offers the following interpretation:
"Remember these numbers are terribly skewed for games that have been on sale (sometimes in deep discount). Also games that were part of Humble Bundles where the play quickly booted it but never played it. Don't read too much into these numbers. TWP has been massively successful on Switch and I have no doubt that is cannibalize Steam to some extent. By next month we will have sold more on Switch than Steam and Switch shows little signs of letting up."
And also:
"...games that are on sale for $1.99 are going to have horrible skewed numbers from games that are $19 and rarely go on sale. When a game gets past a point, it's bargain binned and if you only look at units, you not getting the whole story. I've bought several $1.99 games, booted them once and never again. I don't think this is a "valid" sale when comparing to other games (it's even worse for games that have been in a Humble bundle). As a dev, you're moving a lot of units at $1.99 but making very little money. If the game is 5 years old, that's OK. Just don't compare units from that 5 year old game to a 2 year old game that's rarely been on sale. It's not a realistic or even useful picture."