Articles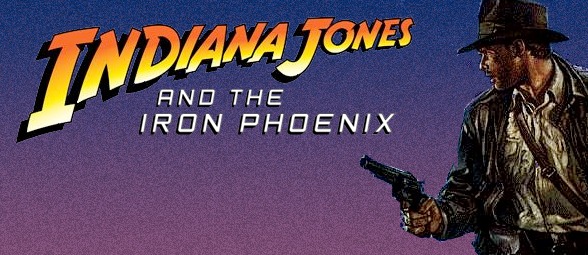 Indiana Jones and the Iron Phoenix: The Lost Sequel to Fate of Atlantis
A Comic Consolation Prize
Indeed, Iron Phoenix received a comic book adaptation by Dark Horse. For twenty years, it was the only form in which the game's storyline survived until Wilmunder's release of the design document in conjunction with this retrospective. Described by Barwood as "toned down" and "incoherent," it seems the adaptation wasn't as faithful as it could have been (though fans familiar with the Fate of Atlantis comic probably saw that coming).
The first three issues of the Dark Horse Iron Phoenix comic were based on my designs. Unfortunately in the last issue the went all zombie-nazi on the story…. literally. They also took one of my characters, Colette, who in my design was styled after the head of our art department, a lovely lady, and turned the comic version into a bit of a hag. Colette later married Steve Purcell (Sam & Max, and co-wrote and co-directed Brave) and she recently built and opened a children's museum.

- Aric Wilmunder
Over the years, an unsubstantiated rumor has persisted that Indiana Jones and the Spear of Destiny, another comic published by Dark Horse in 1995, was based on a second aborted Indiana Jones adventure game, a proposal supposedly kicked around very briefly after Iron Phoenix's collapse. None of the team members I interviewed seem to believe there's anything to this rumor, and no mention is made of LucasArts in the comic's credits, whereas the Iron Phoenix comic includes a thank-you to the relevant LucasArts project leaders on its inside cover, acknowledging its interactive origins. This one appears to be a Dark Horse original after all.

Aric does tell me, however, that he later briefly considered an Indy story that would take place prior to the events of Temple of Doom, depicting his introduction to Short Round and revealing just how he came across the remains of Nurhaci, the Jurchen chieftain that Indy uses to bargain with Lao Che. The idea never got further than Aric's imagination, however.
As for the Iron Phoenix, its cancellation came unceremoniously, per Anson Jew, during a team meeting. This would have been somewhere between late 1994 and early 1995. Speaking with TheIndyExperience.com, Barwood estimates that the game's development lasted a total of fifteen months, though others question if it was that lengthy. Reviewing the documents he kept, Aric tells us that the last ones are dated 1994. And as for the game's completion status?
There was almost nothing to show. Bill had drawn backgrounds and Anson did some animations, but the output from the external team was effectively zero. I should have just started scripting this myself and I would have had more to show. It would not have taken much effort to start connecting rooms and use characters from our earlier games as placeholders. This is typically what other teams would do, but we continually were told that staff was being hired, but after months, we saw nothing.

- Aric Wilmunder
If there were ever screenshots, none survive to the present day, as the era of Iron Phoenix's development was right in the heartbeat before online promotion would have been a consideration. While displeased by it, Aric argues that from a quality control standpoint, the cancellation was the only respectable outcome given the apparently unwillingness of LucasArts to give the project the resources that it needed.
In some respects I wasn't upset, just disappointed. I would rather not build a product, than to build a bad product. I had spent years working with teams building great products, and I wanted nothing to do with a game that was a step backwards.

I hate to say that I agree with management. Bill and I may have forced the decision since we both thought that the situation we were put into was not going to lead to a successful outcome. Management either needed to commit or close it down.

- Aric Wilmunder
They closed it down.