Articles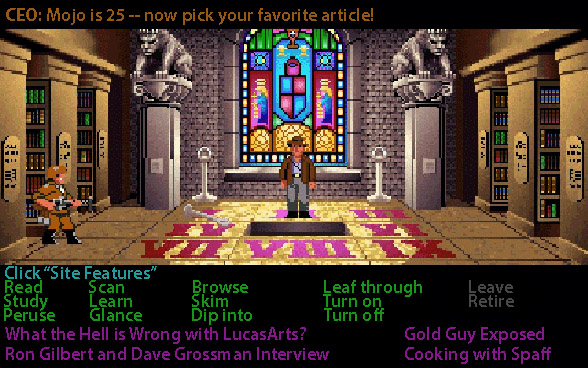 25 Years of Mojo: Staff Picks
Kroms' Picks
Dispatched from an undisclosed location to evade justice over his failure to deliver that Herc's Adventures review...
1. The Unabridged History of Sam & Max 2: A Mixnmojo Memoir (2020)
My knowledge on the fallout from Freelance Police's murder is second-hand, but Jason's Svetlana Alexievich-rivalling write-up on that seminal period was transportive and illuminating. The depraved word count suggests Unabridged History was a eulogy exorcistic for its writer; I'm sure the NYT would've described it as a "tour de force" with "luminous prose." (In all honesty, Jason can turn a phrase, and this is a great read.)
2. Mojo's review of Batman: The Telltale Series (2016)
If Unabridged History is the acceptance stage of grief, here's shock through depression. I wasn't around when Telltale was brainlessly shuffling for the mythical formula to repeat its Walking Dead sales, so I missed Mojo's despair-filled attempt at reviewing Batman: The Telltale Series until the original company finally stumbled into the ash heap. The review is hilariously dispirited. Remi loved the sequel, though, and all's well that ends well, so I don't feel too mean pointing out this one.
3. All the Secret Histories (2008–2010)
I can't look at my own paltry contributions to these without embarrassment, so I won't; it was a strange time. But the Secret Histories are collaborative labours of love that communicate a little of what these games meant to people.