They've swung capably at the softballs lobbed so far by affable VR bloggers and Oprah Winfrey, but the developers at HappyGiant knew the time had come to exit the bubble and submit themselves to the hard-hitting rite of passage that is a Mixnmojo interview.
Join us as we put the Real Questions™ to CEO Mike Levine about all things Sam & Max: This Time It's Virtual which, as you know from today's skin-searing press blast, will be hitting a number of VR platforms over the next year, starting with the Oculus Quest in June.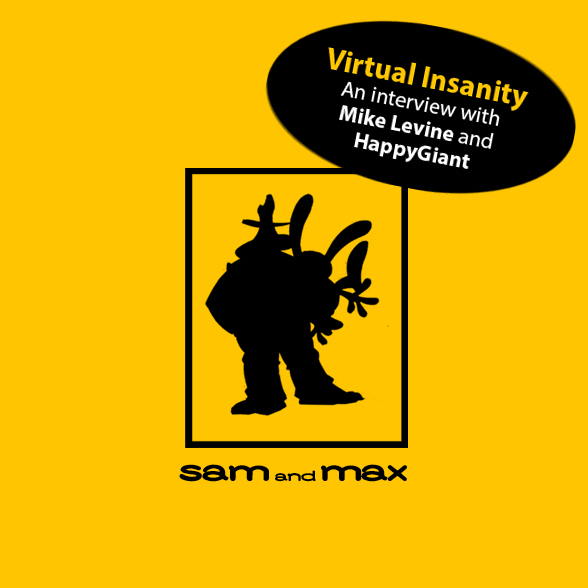 You've probably noticed that today has been an orchestrated press bonanza for Sam & Max: This Time It's Virtual, and while our hubris demands that our own interview remain at the top of the page, we also wanted to provide a public service by pointing out a few other artifacts of the blitz from the internet at large, including:
This preview of the game by Game Informer.

Sworn rival

Fellow fan site SamAndMax.co.uk's own interview with HappyGiant.
This GIF that elTee made:

I'm told it makes sense if you're familiar with the album Remi was parodying in our interview's header art. We're all about ostracizing readers with presumptuous reference humor, after all.
We'll add to this list as necessary!
Hot off the presses: Sam & Max: This Time It's Virtual will be released on the Oculus Quest in June for $29.99, on SteamVR and Viveport Infinity later in the year, and for Playstation VR in early 2022.
The full press release and a bunch of new screenshots can be found here. Update by Remi: No, not there. Here! At Mojo! Press release is below the fold, and our gallery is updated, too.
And don't bother calming down, as Mojo will be making itself complicit in this press push by publishing our own interview with HappyGiant. Stay tuned.
Oh, and did we mention the new footage?
And these hi-res beauties show off a game much closer to the finish line than some of the earlier glimpses:
Of course, you can check out all released screenshots to date in our meticulously maintained gallery.
You may already be aware that a major location in Sam & Max: This Time It's Virtual will be a rundown "Aquabears" amusement park. And what dilapidated family funtime establishment could do without a creepy theme song?
Loading tweet.
And on just what platforms will you be experiencing this Purcellian Willy's Wonderland, you say? Take heart, for we will know soon:
Loading tweet.
In other "let's see what else Happy Giant tweeted over the last week that we can hastily compile" news, there's this new and improved clip of Max as Pennywise for you to ponder:
Loading tweet.
And to combat skeptics like Remi, they've decided to ante up with a glimpse of the game's intro screen.
Loading tweet.
There's still no firm release date, however, so there's still time for you to save up to buy me a platform to play this on. Thanks in advance.
The folks over at VR blog The Ghost Howl snagged HappyGiant CEO Mike Levine for a lengthy interview about Sam & Max: This Time It's Virtual. The interview can be enjoyed in the form of a one hour video version embedded below in which subject and host are depicted as Costume Quest characters, while those of you left alarmed by this approach can stick with the transcript version.
That's not all. Some new footage has been released, in which Sam and Max welcome you to "Cap'n Aquabear's Funtime Park" -- the depilated amusement park which the Freelance Police have retrofitted into a training academy. Check it out below:
An animator who pitched in on HappyGiant's upcoming Sam & Max game shared the following:
Loading tweet.
My opinion is that all attempts to date to model Max in 3D (the Freelance Police version, the Telltale version, and the one above) have done a commendable job of faithfully capturing the fuzzy maniac, and it's fun to compare the nuances. The in-engine footage of This Time It's Virtual shared so far has subjected the characters to a certain "compressed for Nintendo DS" look to my eyes, so hopefully the shipped version can have Max looking a little more like he does in the animation tool.
Mixnmojo: We pretty much just embed Tweets now.
It seems we didn't actually cover the first one, but quiet you.
Mike Levine's second update of the dev blog delves a bit into the team's process in devising the gameplay mechanics of a Sam & Max VR title from a graphic adventure starting point, then offers something of a synopsis:
It's 2021 … and Sam & Max have been doing this a long time now. Sam has convinced Max to begrudgingly begin taking on new cadets to train for the next generation of Freelance Police. After putting you through some basic aptitude tests (i.e. making Sam coffee, nuking Max's Lunch, or clearing out cockroaches from their closet), they take you over to an old abandoned amusement park on the outskirts of town. Sam & Max have "retrofitted" Capn Aquabear's FunTime Park into a set of death defying (and life affirming) challenges the player must make their way through. Players will tackle the "Courses" in the 3 parts, and be graded on their performance. A passing grade will unlock the next section. But as usual, "life" gets in the way. Real crimes are taking place that cannot be ignored. And as you earn Sam & Max's trust (ok mainly Sam's), they will take you with them out into the real world, to solve crimes, thwart bad guys, and tell you where to get the best pedicure. Amazingly, the skills you have been honing in the Park come in handy as you take on the city's seedier elements. Everything is going just swimmingly as you approach your big graduation day. But nothing is ever that simple for Sam & Max, is it? And you are now along for the ride! We don't want to spoil all the goods here, so I will just end this here before I give away too much.
Finally, we're given another piece of concept art from the Capn Aquabear's FunTime Park, which seems like it will be serving as something of a hub throughout the game. Hey, you had me at Peter Chan: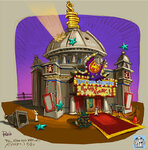 The details are all here. The new footage will be coming to you live from the "Upload Winter Wrap-up" at 9AM PST -- that's three hours from now. You'll be able see it below at that time:
That livestream with Mike Stemmle took place a few hours ago, and you can re-watch it right here at your own convenience. Drag over to 43:09 if you want to skip right to when Mike appears.
Throughout the 80-minute conversation Stemmle gives a lot of great anecdotes and some borderline apologies about Escape from Monkey Island, which is rightly the main topic (it's celebrating an anniversary too, you know!), but there's plenty of memories shared about the productions of Sam & Max Hit the Road, Sam & Max: Freelance Police, and the Telltale games Mike worked on. He even talks about some ideas that were pitched at Telltale but never happened, like his Lovecraftian take on Maniac Mansion.
And of course, there's some pimping of the upcoming Sam & Max VR game, including some new story details. It's all here, and a must watch.
What with all the Halloween and Monkey Island hubbub, we plumb failed to notice that HappyGiant has shown off a little more of Sam & Max: This Time It's Virtual.
So let's play catch-up. First off is this new piece of concept art HappyGiant tweeted for a shooting gallery game Sam and Max will play called "Circle of Carnage":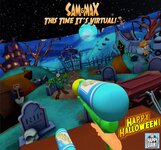 HappyGiant soon followed that up with a gameplay video that shows this sequence in action:
The Happy Giant Twitter feed, which I assume is Mike Levine, recently tweeted some concept art for Save and Max: This Time It's Virtual!, credited to Augie Pagan and Peter Chan. Take a look: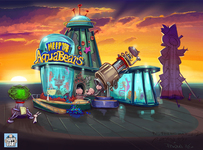 Say what you want about 2020; at least at some point during it, we now know that Peter Chan was doing sketches for a Sam & Max game. And that's what I'll choose to remember about it.
Info for the new Sam & Max VR game keeps streaming forth, and samandmax.co.uk has been keeping on top of it. While Mojo falters in timeliness, it makes up for it by excelling at leeching off others.
First, some clarification on the game's team team. The studio publishing the game, HappyGiant, is the one founded by LucasArts veteran Mike Levine, who you may know from his work with Larry Ahern on Insecticide, while Sam & Max Hit the Road is among the many credits from his LucasArts days. Also integrally involved is Mike Stemmle, whose Sam & Max bonafides hardly need to be listed. Peter Chan is another of the apparently numerous Hit the Road alum involved, and Steve Purcell is naturally consulting.
Since the initial announcement, an extended trailer was released by IGN, some screenshots and story details came to light, and gameplay footage narrated by Levine and Stemmle appeared during something called a "Gamescon" Twitch stream yesterday.
For your convenience, we've got the screenshots safely stolen in our own galleries. Note the appearance of Sam and Max's office landing as a location, which we haven't seen since Hit the Road, but which we would have seen in Freelance Police.
In fact, what I'm finding most interesting about this game so far is how its depiction of the office/street is a balanced tribute to both the LucasArts and Telltale incarnations. The street environment seems extremely indebted to the Freelance Police version, while the hoodless DeSoto, the voice actors and certain specifics in the office (like the television) are straight out of the Telltale games.
Anywho, keep tabs on Mojo as we keep tabs on samandmax.co.uk's ongoing coverage of Sam & Max: This Time It's Virtual!.
It's been a while since we've heard concrete rumblings about any new Sam & Max games, so this one came as a bit of a surprise…
Good to see them again! Particularly if you own a VR headset. At least five people from the previous Sam & Max titles are back working on this over at HappyGiant. We'll keep you posted in a timely-ish manner.
And the forums are figuratively hopping with chatter about these news, so go discuss!