It seems we didn't actually cover the first one, but quiet you.
Mike Levine's second update of the dev blog delves a bit into the team's process in devising the gameplay mechanics of a Sam & Max VR title from a graphic adventure starting point, then offers something of a synopsis:
It's 2021 … and Sam & Max have been doing this a long time now. Sam has convinced Max to begrudgingly begin taking on new cadets to train for the next generation of Freelance Police. After putting you through some basic aptitude tests (i.e. making Sam coffee, nuking Max's Lunch, or clearing out cockroaches from their closet), they take you over to an old abandoned amusement park on the outskirts of town. Sam & Max have "retrofitted" Capn Aquabear's FunTime Park into a set of death defying (and life affirming) challenges the player must make their way through. Players will tackle the "Courses" in the 3 parts, and be graded on their performance. A passing grade will unlock the next section. But as usual, "life" gets in the way. Real crimes are taking place that cannot be ignored. And as you earn Sam & Max's trust (ok mainly Sam's), they will take you with them out into the real world, to solve crimes, thwart bad guys, and tell you where to get the best pedicure. Amazingly, the skills you have been honing in the Park come in handy as you take on the city's seedier elements. Everything is going just swimmingly as you approach your big graduation day. But nothing is ever that simple for Sam & Max, is it? And you are now along for the ride! We don't want to spoil all the goods here, so I will just end this here before I give away too much.
Finally, we're given another piece of concept art from the Capn Aquabear's FunTime Park, which seems like it will be serving as something of a hub throughout the game. Hey, you had me at Peter Chan: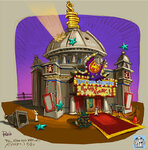 The details are all here. The new footage will be coming to you live from the "Upload Winter Wrap-up" at 9AM PST -- that's three hours from now. You'll be able see it below at that time:
That livestream with Mike Stemmle took place a few hours ago, and you can re-watch it right here at your own convenience. Drag over to 43:09 if you want to skip right to when Mike appears.
Throughout the 80-minute conversation Stemmle gives a lot of great anecdotes and some borderline apologies about Escape from Monkey Island, which is rightly the main topic (it's celebrating an anniversary too, you know!), but there's plenty of memories shared about the productions of Sam & Max Hit the Road, Sam & Max: Freelance Police, and the Telltale games Mike worked on. He even talks about some ideas that were pitched at Telltale but never happened, like his Lovecraftian take on Maniac Mansion.
And of course, there's some pimping of the upcoming Sam & Max VR game, including some new story details. It's all here, and a must watch.
What with all the Halloween and Monkey Island hubbub, we plumb failed to notice that HappyGiant has shown off a little more of Sam & Max: This Time It's Virtual.
So let's play catch-up. First off is this new piece of concept art HappyGiant tweeted for a shooting gallery game Sam and Max will play called "Circle of Carnage":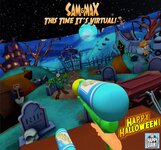 HappyGiant soon followed that up with a gameplay video that shows this sequence in action:
The Happy Giant Twitter feed, which I assume is Mike Levine, recently tweeted some concept art for Save and Max: This Time It's Virtual!, credited to Augie Pagan and Peter Chan. Take a look: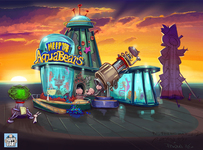 Say what you want about 2020; at least at some point during it, we now know that Peter Chan was doing sketches for a Sam & Max game. And that's what I'll choose to remember about it.
Info for the new Sam & Max VR game keeps streaming forth, and samandmax.co.uk has been keeping on top of it. While Mojo falters in timeliness, it makes up for it by excelling at leeching off others.
First, some clarification on the game's team team. The studio publishing the game, HappyGiant, is the one founded by LucasArts veteran Mike Levine, who you may know from his work with Larry Ahern on Insecticide, while Sam & Max Hit the Road is among the many credits from his LucasArts days. Also integrally involved is Mike Stemmle, whose Sam & Max bonafides hardly need to be listed. Peter Chan is another of the apparently numerous Hit the Road alum involved, and Steve Purcell is naturally consulting.
Since the initial announcement, an extended trailer was released by IGN, some screenshots and story details came to light, and gameplay footage narrated by Levine and Stemmle appeared during something called a "Gamescon" Twitch stream yesterday.
For your convenience, we've got the screenshots safely stolen in our own galleries. Note the appearance of Sam and Max's office landing as a location, which we haven't seen since Hit the Road, but which we would have seen in Freelance Police.
In fact, what I'm finding most interesting about this game so far is how its depiction of the office/street is a balanced tribute to both the LucasArts and Telltale incarnations. The street environment seems extremely indebted to the Freelance Police version, while the hoodless DeSoto, the voice actors and certain specifics in the office (like the television) are straight out of the Telltale games.
Anywho, keep tabs on Mojo as we keep tabs on samandmax.co.uk's ongoing coverage of Sam & Max: This Time It's Virtual!.
It's been a while since we've heard concrete rumblings about any new Sam & Max games, so this one came as a bit of a surprise…
Good to see them again! Particularly if you own a VR headset. At least five people from the previous Sam & Max titles are back working on this over at HappyGiant. We'll keep you posted in a timely-ish manner.
And the forums are figuratively hopping with chatter about these news, so go discuss!