Articles

The Big Sites - LucasFans
lucasfans.adventuregamer.com
The following images apear courtesy of their creators.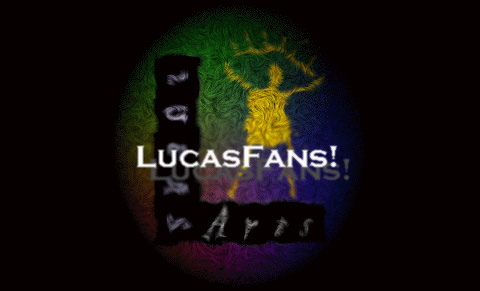 Now like the last part of this feature I got a chance to talk to a webmaster of a successful or even legendary Monkey Island site. LucasFans was the first site i can remember that wasnt just about Monkey Island, even it was mainly focussed on that game. The site was an all round LucasArts page and was great. Joonas Linkola AKA Swordmaster and his site were an integral part of the MI Community, especially with his Midi creations that we all enjoyed so much !
Ok well that said, lets see what Joonas has to say about his masterpiece, oh but first let me yake you back to 1998, when i interviewed Joonas before:
Whats your favourite LucasArts game?
<Joonas '98>
That's a hard one... of comedy adventures, maybe Monkey Island 2, of serious adventures, Indiana Jones and the Fate of Atlantis.
Did you ever think your site would be so popular?
<Joonas '98>
I of course hoped for it, but I never thought it would be true. My goal with LucasFans was first to have somekind of a review database, where fans could submit their thoughts about all the games. It soon became clear that the site would actually spread out to other directions: after I found Tom Lewandowski's music site, I immediately started to expand my Downloads, and soon came the In-Jokes. Those two sections are probably the most important at LucasFans these days. All I can say is thank you to all my visitors, it's really nice to know that all my work hasn't been wasted.
How did you choose your Nickname?
<Joonas '98>
The real reason to it is ("It's a LucasFans fact") that the first time I logged to DALnet's server, I had to choose a nick. Guybrush, LeChuck and Elaine were taken, so I just randomly tried all Monkey characters. "Swordmaster" was the first one free. That's the whole story.
welcome back to the year 2000.
Now Joonas speaks again! The rest of the above interview along with some others carried out at the same time will be uploaded shortly to mixnmojo.....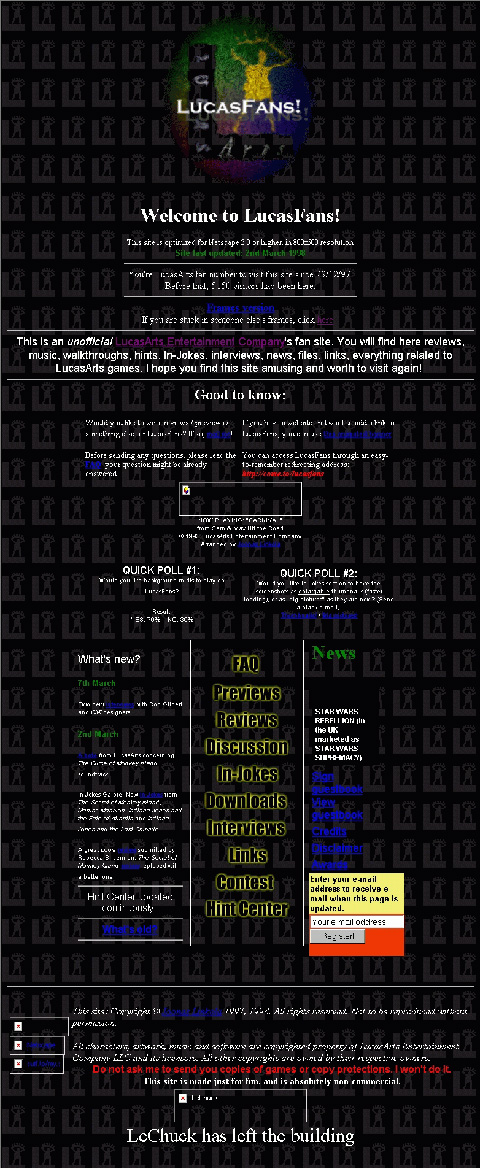 How did your site evolve over the years? (a brief history)
<Joonas>
LucasFans started somewhere back in 1996 when I thought it would be nice to pay a tribute to my favorite game company. I didn't know any other fans existed, but I still wanted to do it for personal enjoyment. The first phase of the site was really simple and located at Tripod at the time. In early 1997 (soon after I found out about The Scumm Bar), it moved to a new address (wwnet.fi/users/linkola) with a new design resembling The Scumm Bar (with Skyfox's permission, of course). The next big chance came in late 1997 or early 1998 (can't remember) when LucasFans received its first original design. By this time, the site had grown enormously and received a lot of positive feedback from visitors. The next - and up to date the latest - big step was taken in April 1999 when LucasFans moved to its current location at Adventure Gamer and the new design was revealed.
what has been your favourite moment in the history of your site?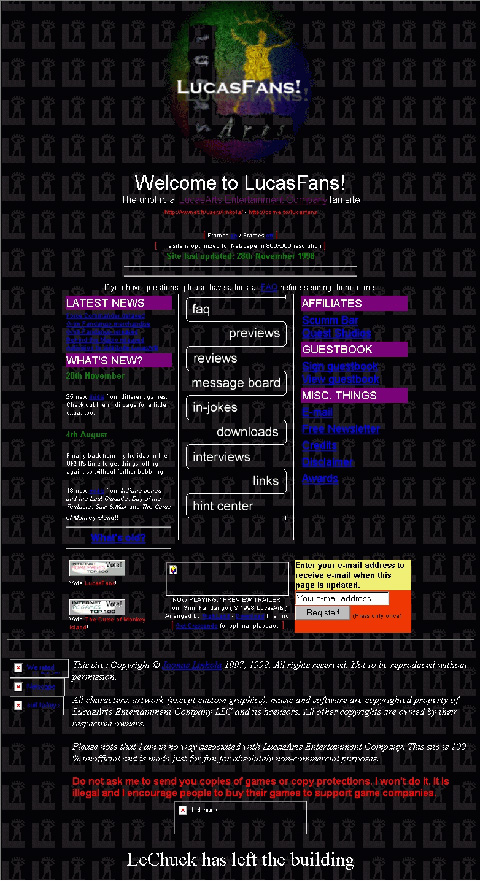 <Joonas>
There hasn't been any specific moment which I can recall. The fondest memories, however, are about reading feedback from satisfied visitors - the support and encouraging words from them is what has kept me updating the site for four years now. I owe to you out there! Other special moments are getting in touch with both current and former LucasArts employees for LucasFans interviews - it's very nice to be able to talk to the people whose work I've marveled at for a decade. God bless the Internet!
Any big future plans?
<Joonas>
Nothing spectacular in the near future, but I'm always up to something. ;)
Which was your favourite design of your site?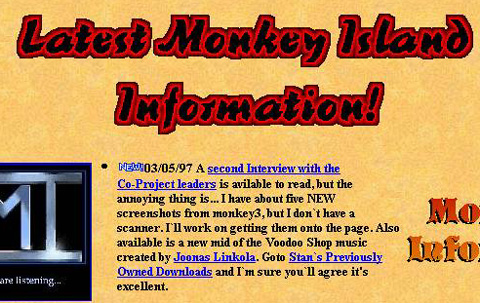 <Joonas>
Probably the current. It's much easier to update news than it was before.
which was your favourite monkey island site - other than the ones belongingto you 3?
<Joonas>
Hmmm... Besides The Scumm Bar? TSB and Booty Island are about the only ones I can remember by name. There were a few good ones back in the old days (when one could actually list all the sites on one page!), though. Plunder Island was nice, too.