Articles

2013: A Review
Most Wanted for 2014 and Your Favorite Game of 2013
2013 might have had its ups and downs; not necessarily with as many ups as previous years, but they can't all be gold! 2014, meanwhile, is looking good, and it's no surprise what you really are looking forward to.
Most Wanted for 2014
1. Broken Age
2. Monkey Island 6
3. The Wolf Among Us to continue…
4. Game of Thrones
5. elTee's article that was slated for 2007
6. For Double Fine's Amnesia Fortnight/Kickstarter games to be finalized
7. DJG
8. Tales from the Borderlands or whatever it's called
9. MojoEX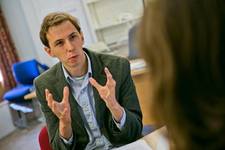 I mean, Schafes jumping back into adventure gaming? It's no shocker that
Broken Age
topped this poll.
Monkey Island 6
? We assume it'll be available right after
Loom 2
is released.
As for elTee's larger than life article -- it took six years, and he finished it! Then we pulled the rug out from underneath him by pointing the ship called Mojo toward new horizons. Now he has to rewrite it. Whoops! But it'll come, unlike DJG who probably has fully transformed into a robot by now.
The Wolf Among Us is, thankfully, set to continue soon, and with Game of Thrones set to follow, it looks like many of you are excited about Telltale's coming year.
MojoEX, the follow-up to MojoX? Well, it just missed its 2012 deadline, but that didn't seem like much of a surprise to any of you.
In the end, though, 2013 was all about the games. And there were some good ones.
Your favorite game of 2013
1. The Cave
2. Broken Sword: The Serpent's Curse
3. Faith (The Wolf Among Us)
4. Poker Night 2
5. All That Remains (Walking Dead S2)
6. 400 Days
7. Scurvy Scallywags
8. Dropchord
9. Autonomous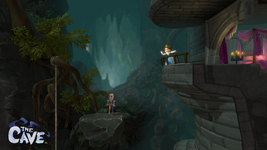 Mojo readers like what they like, and while
The Cave
might not have been the
hottest
thing among the mainstream press, you, as us, thought it was an excellent game. It's a deserved #1, joining
The Walking Dead
,
Puzzle Agent 2
, and
Sam & Max: The Devil's Playhouse
for the
highly
coveted Mojo Game of the Year accolade. Notice too: Telltale's stream of winners has finally been broken.
The Serpent's Curse was the game that pushed Mojo to start covering a wider span of games, and we're happy to see a classic adventure game placing so high.
The Wolf Among Us, based on Fables, hit #3 with only one episode released -- I expect it could place higher when the series is done -- followed by the addictive and well-written Poker Night 2.
We'll see if the second season of Walking Dead will do as well as the first one, but seeing All That Remains got as many votes as the so-so 400 Days… I guess we'll find out soon enough.
The last three games didn't see as much of a wide platform release as the rest of the games on the list, but let it be known: Scurvy Scallywags is quite the gem.
So, I guess that's it. 2013. Mojo is still here, 16 years in. Can you believe it? We can't! Many of us have been around, updating the site for over ten years now, which I suppose is kind of depressing, but hey… We do it all for you.
Remember, as always: Mojo loves you! (Sort of!)