Disney to buy Lucasfilm, make more Star Wars movies
30 Oct, 2012, 20:13 | Posted by: jp-30 | Source: Coming Soon
In breaking news,
Disney has acquired Lucasfilm
for just over $4 billion. Star Wars Ep VII slated for 2015 release, apparently.
Under the deal, Disney will acquire ownership of Lucasfilm, a leader in entertainment, innovation and technology, including its massively popular and "evergreen" Star Wars franchise and its operating businesses in live action film production, consumer products, animation, visual effects, and audio post production. Disney will also acquire the substantial portfolio of cutting-edge entertainment technologies that have kept audiences enthralled for many years. Lucasfilm, headquartered in San Francisco, operates under the names Lucasfilm Ltd., LucasArts, Industrial Light & Magic, and Skywalker Sound, and the present intent is for Lucasfilm employees to remain in their current locations.


Kathleen Kennedy, current Co-Chairman of Lucasfilm, will become President of Lucasfilm, reporting to Walt Disney Studios Chairman Alan Horn. Additionally she will serve as the brand manager for Star Wars, working directly with Disney's global lines of business to build, further integrate, and maximize the value of this global franchise. Ms. Kennedy will serve as executive producer on new Star Wars feature films, with George Lucas serving as creative consultant. Star Wars Episode 7 is targeted for release in 2015, with more feature films expected to continue the Star Wars saga and grow the franchise well into the future.
What the Duck?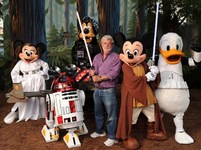 JP Update:
Comments: 32

Twitter this
Allowed bbcodes:
[i] - Italized text
[b] - Bolded text
[url=http://example.com]Name[/url] - Creates a hyperlink
[quote=author]Quote[/quote] - Creates a quote box
[del] - Strikethrough
Hosted sites
Adventure
Music
Game Guides
Misc