It's looking to be a big month for Monkey Island, which is marking its 30th anniversary. Whatever Limited Run Games has in store with their box set should be unveiled imminently, and a faucet of retrospectives is evidently opening for the occasion as well -- The Guardian published a courtly little piece in celebration, and Wireframe Magazine has a feature devoted to the series in its latest issue.
I would also encourage everyone to keep their eye on Craig Derrick's Twitter feed. Just today he posted a photo of what looks to be the original acetate layers for the Secret of Monkey Island box: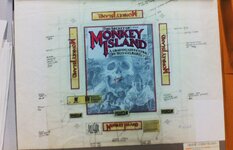 More is no doubt to come, and if this was 2003 we'd probably be the best place to keep up with it all.