Articles
PAX East 2016
Day 2 and 3
Day 2
I ended up sleeping in the second day, probably due to all the walking around Boston I did while I was looking for the parking garage, and ended up waking up at 10:30. I headed to McDonald's to get myself a cheap breakfast before I headed into Boston, and ended up arriving at the convention center at noon. This time, I ended up getting lucky in terms of parking. While the convention center sign usually stated that the parking lot was full, this time I was pleased to see that parking was available. I headed to the parking lot and paid the attendant fifteen dollars. However, I still had to circle around a few times before someone pulled out of their parking space. The bonus of being able to park right next to the building was, with my exhibitor's badge, I could enter the exhibitor's entrance and walk through the staff corridor. This brought me right to the show floor.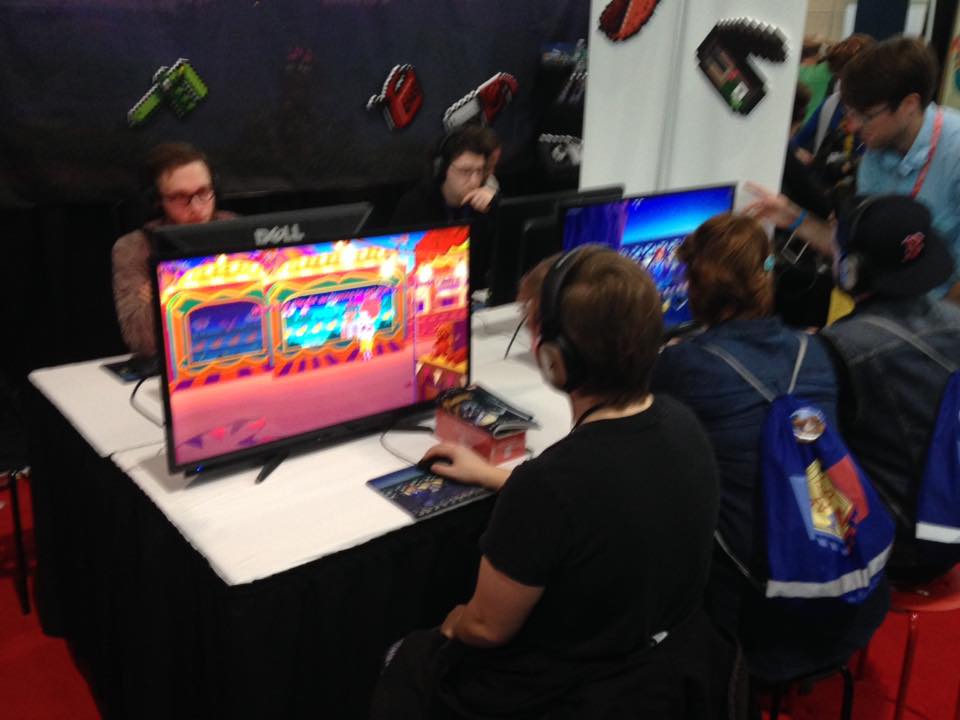 I headed to the Double Fine booth, and went right to work, operating the credit card system for the store. It seems that Saturday was a good day for sales, as the Psychonauts mini action figures were completely sold out. While working the booth, two people came up who were cosplaying Double Fine characters - one as Raz and one as Manny Calavera. Sadly, since I was working, I left the camera in the staff tent area, but it was still enjoyable to see. The pinny arcade pins again continued to sell quite well, as we continued to restock them in the display area in front of the booth. I personally enjoyed selling the Raz and Hexipal plushies, as the people who bought them were always so pleased once they were given them. They are cute, and they are really well made. I have one of each, which are currently sitting happily in my living room.
This time around, since I arrived late, I continued working at the booth right up until the close of the exhibition hall. Spaff reminded me that they were holding a meet-up with Media Molecule and friends at the Renaissance Boston Waterfront Hotel immediately after the exhibition hall closed. It was right down the street, so I thought I'd be saved the amount of walking from the day before. I should have known to not sell my knack for getting lost and confused short though, as I ended up walking for another three hours until I made my way to the hotel.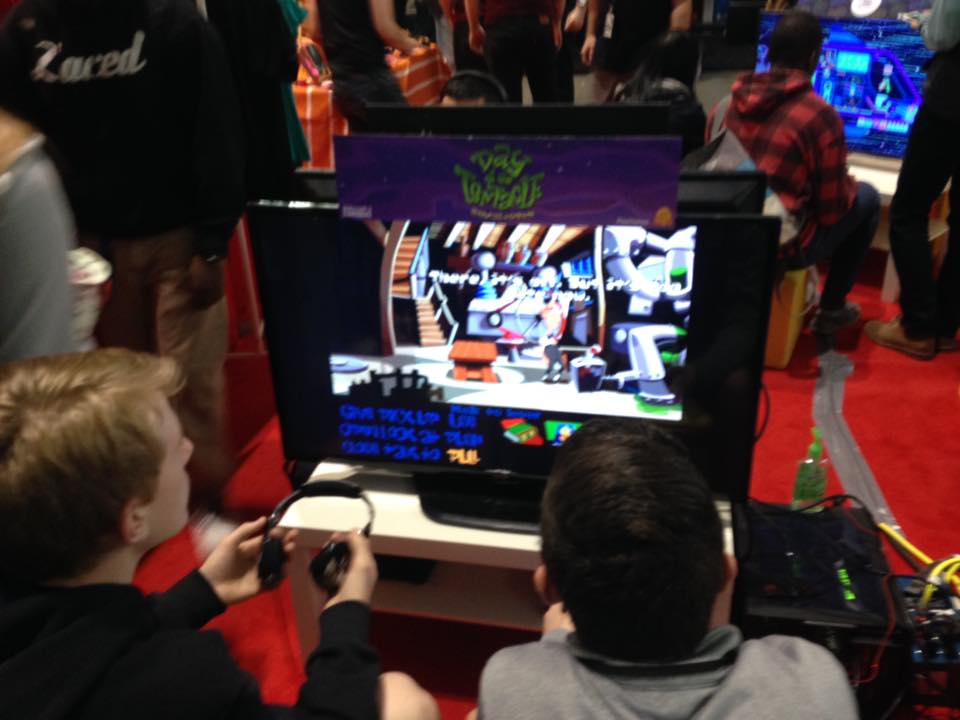 When I did make it though, I had a great time. It was great to meet up with the group, talk about games (mostly about Miitomo on my part, as I was a bit addicted to it when it first launched), and enjoy the great seafood New England has to offer. I'm not much of a drinker, so I ordered a lemonade, tried an oyster, and ordered a fantastic lobster roll. Since I got there so late, most of the group left shortly after I arrived. Once I had finished my meal, I decided to head back to the convention center.
As I was at the convention center anyway, I decided that I'd check out what PAX East had to offer after the exhibition hall had closed. The day before I was talking to Ron Gilbert about the difference between E3 and Pax. He said that he liked PAX better because it felt more fan-oriented, and wasn't as loud. I thought that, even though it was as big as E3, it had the some of the vibe of smaller gaming shows like Magfest or the Midwest Gaming Classic. This feeling was increased tenfold once I got a taste of the show after exhibition hours. It had rooms dedicated to multiplayer gaming, both on consoles and on PCs. There were also people playing card based role-playing games, arcade games, and rooms full of games running on classic video game consoles, from the 8-bit era to the original X-Box and PlayStation 2. I had always enjoyed classic game shows, so I enjoyed checking everything out. This portion of PAX East closed at midnight, so at 11:45, I headed out to the parking lot (after getting directions from one of the PAX staff). At this point the parking lot was fairly empty, so my car was only one in about a dozen, making it easy to find. I then headed out of Boston, which was an easy task at this hour, as traffic was minimal, so I could get some sleep for the last day of the show.
Day 3
Even though I ended up walking through Boston for the same amount of time on my second day as the first, I started off my final day much earlier. I woke up at 9AM and headed into Boston. After missing my turn and getting turned around, I arrived at the convention center at 11AM. I didn't have the same luck the second day as I did the first, so I ended up having to find parking elsewhere. Now that I knew the layout of downtown Boston better, I managed to find a parking garage that advertised convention parking. Luckily it was near the hotel where the fan meetup was held the previous night, so I didn't have any problem making my way back to the convention center.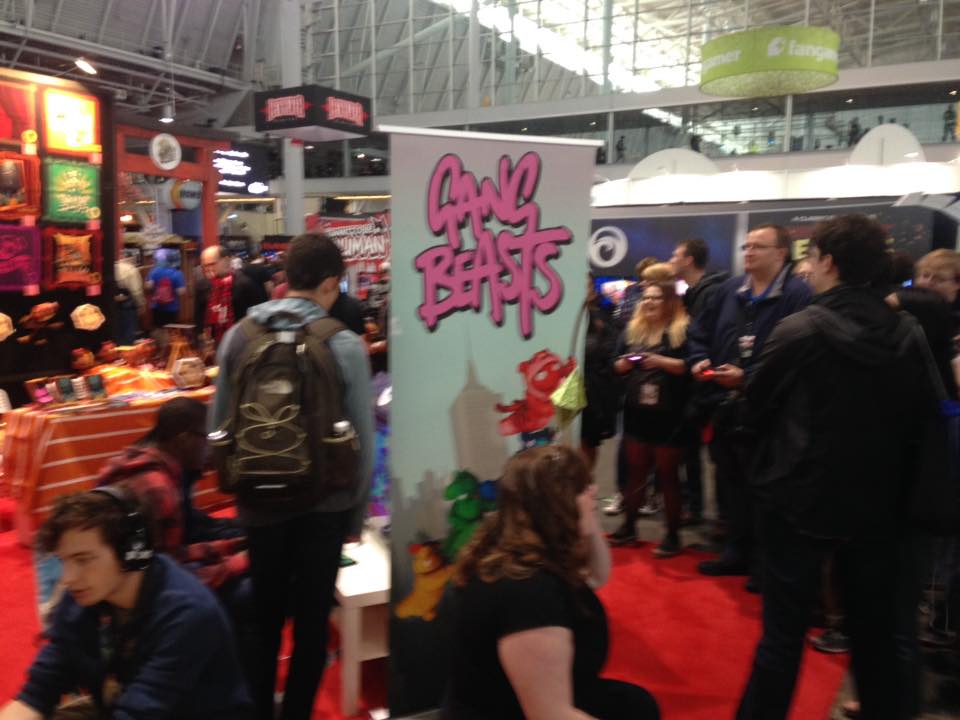 I didn't get to go in through the exhibitor's entrance this time, but luckily the crowd was already inside, so the line wasn't nearly as long as it was when I arrived at the opening of the show on the first day. I spent the previous days checking out the indie games, so I decided to check out the big name games on display before heading to work. I stopped by Nintendo's booth, and tried out the games on display. I was pleasantly surprised by Starfox Zero. From what I played, I found it really enjoyable, and didn't notice the slowdown that many had seen. My favorite booth was the Shadow Warrior 2 booth, which was adorned with cherry blossom trees. It was really a sight to behold. I didn't get to play the game, due to the long lines, but it looked impressive in motion. I was hoping to try out the games for the virtual reality headsets, but the waiting lines were so long there was a list that was filled up ahead of time, so that was out.
Since the Shadow Warrior 2 display was so close to the Double Fine booth, I decided to see if anyone wanted me to take over so that they could take a break. My offer was gladly accepted, so I took the tablet that was being used for credit card transactions and settled in for my last day helping out at the show. The large T-shirts were mostly sold out by the time I arrived, and the Brutal Legend art books sold out before the show closed. Gang Beasts continued to be a crowd-attractor, and more Everything also brought in its share of people to marvel in its charming weirdness.
The time seemed to fly by, and before I knew it, it was 5:30 and we began counting down the clock. Of course, the last thirty minutes seemed to crawl. It always works that way when you are paying attention to the time. I decided to help the team pack up before they headed out, as they had an early morning the next day, since their flight back to California left at 6AM. I bid the team farewell, and told Spaff that I was available to help out again if they ever came back to PAX East in the future.
I did get lost on the way back, as to be expected, but thankfully I was close this time. I asked for help on my previous days, but their advice just ended up in me going around in circles. This time, the parking garage was right down the street, so I was able to easily find my way to it from the directions I was given. I was going to head directly back to New York, but I was tired so I opted to spend an extra day and a half relaxing before I headed home. All in all, the experience was fun, despite my knack of getting lost. I got to check out some games that I was anticipating, got to meet some of my gaming heroes, as well as people that I had only known online through fan websites and in my time as a community manager. Best of all, I got to help one of my favorite companies, and I have a lot of fond memories and pictures to remember from my experience. If the opportunity to do something like this came up to do this again in the future, I'd take it in a heart beat.