Articles
I haven't been to a major gaming show since 2002. That was at Electronic Entertainment Expo, the year of the 20th anniversary of LucasArts. Their 20th Anniversary video was playing on a loop on the big screen in the lobby, and was honestly the highlight of the show. I forgot how crazy these big gaming conventions get. Had I remembered, I still would have volunteered to work at the Double Fine booth, as I loved being able to help people who work at the company that made some of my all-time favorite games. I just would have been more prepared.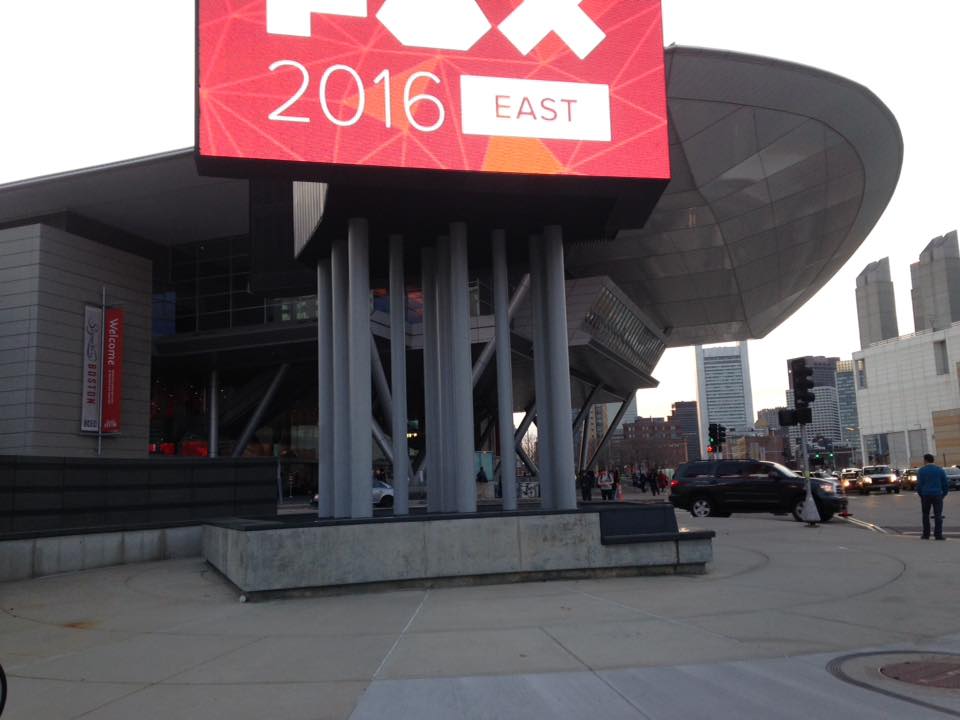 The first day, I arrived at nine in the morning, just as the show was opening to the public. The crowd outside the convention was insane. It took me an hour to get through it. I had lost my cellphone, so I brought my iPad and laptop. It was too loud to make a Skype call, and I wasn't sure how to send a text. Luckily, the registration booth was very helpful, and they sent a text to Double Fine's community manager, and half an hour later I was in the convention center with my exhibitor badge in hand. That community manager is James Spafford, who was the founder of The International House of Mojo, and I asked him for permission to write about my experience for the site. It had to be surreal for him to be on the receiving end of requests for Mojo articles.
Double Fine's booth was situated next to Adult Swim's booth, as they will be the publisher of Double Fine's upcoming platformer Headlander. Spaff told me to look for the Adult Swim banner if I ever couldn't find the booth. I am grateful for that advice, as I ended up using it multiple times throughout the show. Double Fine's space was showing several of their current and upcoming games. They also had a station demonstrating Headlander, as well as one demonstrating Day of the Tentacle Remastered. Three of their published games, under the Double Fine Presents label, were also present, Gnog, Everything, and Gang Beasts. Gang Beasts always had a large group around the game. It was described as "perpetually popular", and, at least for demonstrations at game conventions, it fit that description well. Gang Beasts is up on Steam Early Access now, but the 1.0 release is slated to come out by the end of the year, once the development team finishes online multiplayer support. Once it has reached that stage, Double Fine will publish the game on consoles.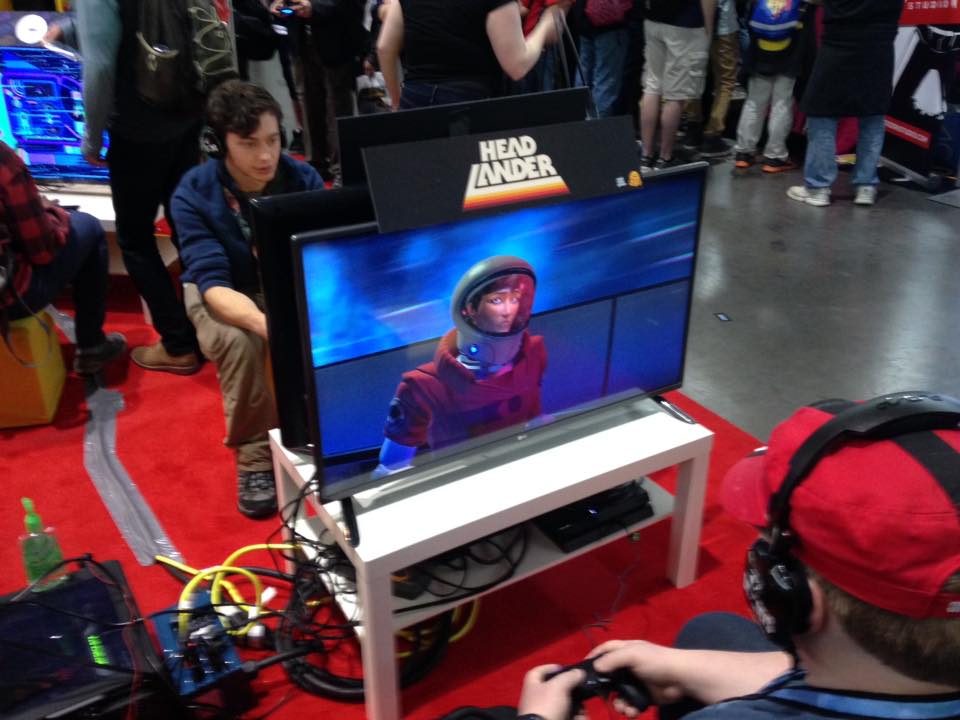 I spent most of the day selling items at the booth from the Double Fine store. The Pinny Arcade Raz and Two Headed Baby pins were quite popular. Quite a few people asked for more Brutal Legend merchandise, and were happy to hear that the Double Fine art team finalized a pin design for a Brutal Legend Pinny Arcade pin, which will be available at the Double Fine booth at next year's PAX.
Towards the end of the first day, I learned that Ron Gilbert and Gary Winnick were showing off Thimbleweed Park as part of the Indie Showcase area. I headed to the booth, and talked to them while I was waiting for my turn to play the PAX demo of the game. I had a hard time keeping myself composed, as I love Maniac Mansion, and I love all of Ron's games. I even have a soft spot for the Humongous Entertainment games, even though, at 12, I was outside of the demographic when the company was founded (that didn't stop me from playing the games though). I also purchased and enjoyed Gary Winnick's Bad Dreams graphic novel so much I tracked down most of his other comic work, including the Venture comic magazine and the short-lived two issue Neomen.
After getting my inner fangirl in check, I asked Ron Gilbert if Thimbleweed Park would have multiple endings like Maniac Mansion. He stated that each character would have their own ending. However, unlike Maniac Mansion, you won't have to play through the game again to get each ending. It will be possible to see each ending in a single play-through. I also asked Gary Winnick if he preferred working on comics or games. He stated that which he prefers depends on the situation. Right now, he's working on Thimbleweed Park, which he began right after working on his Bad Dreams graphic novel. So at the moment, he prefers working on games. However, he said that he likes doing both, and once Thimbleweed Park finishes and he goes back to making comics, his answer would probably be different.
I bought a Thimbleweed T-shirt and went over to the play area to watch people playing the Thimbleweed Park demo. There were four people playing, I was fourth in line, and I could hardly wait to try it for myself. From what I could spot while looking on, it had all the humor that we've come to expect from the Lucasfilm Games era, and tons of in-jokes to spot for fans of those games. I took a few pictures of some of the in-jokes in action, and waited patiently for my turn to play the game. Finally, I was able to play the game, and it was worth the wait - not just waiting in line, but it also was worth the wait since the Kickstarter concluded back in December 2014.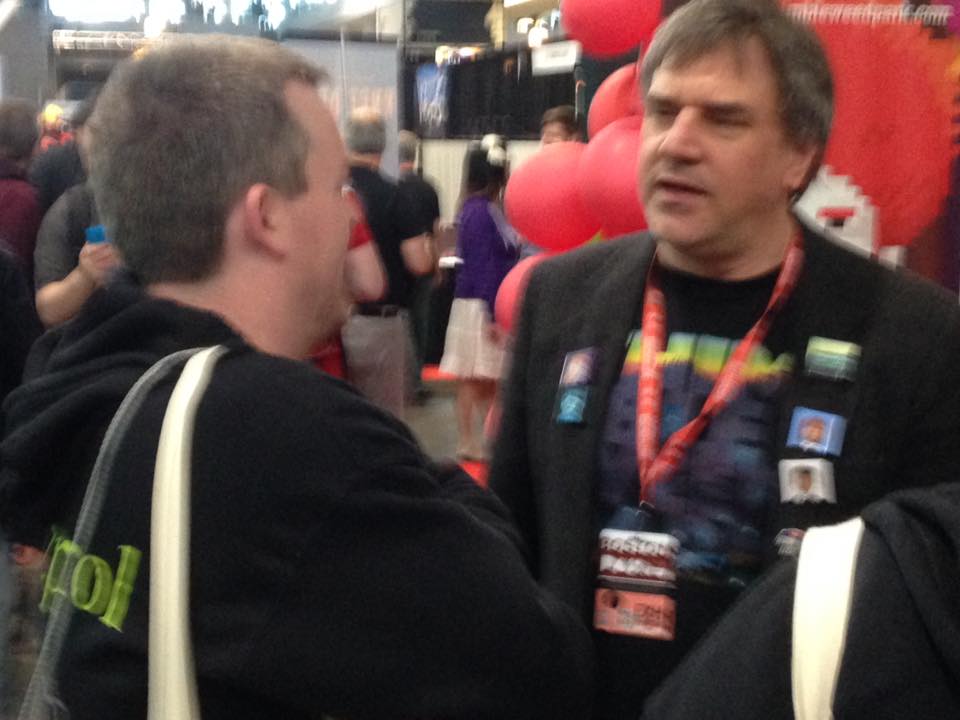 This demo starts at the crime scene that has been shown prominently in features about the game, even while the Kickstarter was still live. You can alternate between the two police detectives, and like Maniac Mansion or Zak McKracken, some puzzles require you to give objects to the other character, so that character can combine that object with one that they have in their own inventory. Once the crime scene is cleared, you're taken to a diner where you obtain information about a suspicious clown named Ransome the Clown. The police officers are told the story about this clown, and you are then given control of Ransome as you play the story out in flashback. Ransome's story is quite interesting, as it includes dark magic that reminds me, in a way, of the Voodoo Lady from the Monkey Island games. Once Ransome's backstory is revealed, the player characters once again become the detectives, who have placed Ransome on their suspect list. However, the demo doesn't last much longer, as one of the officers is seemingly ambushed, and the demo ends, leaving the player wanting to experience more of the game. The suspense of the cliffhanger is supplanted with humor, as the ending text is displayed across the screen, bringing back memories of the "Turn Your Computer Off and Go to Sleep" text at the end of Monkey Island.
I leave the play area, and, like everyone who takes the time to play the game, Gary Winnick gives me a Thimbleweed Park mouse pad for trying out the demo. I thank him for the excellent gift, and decide I should head back to help out the Double Fine team at their booth. At this point, there are four people there, and they are in the middle of a change-over in booth staff. They said that they don't need any help at the moment, so I decided to head out to see what kind of food was available at the convention center. I'm actually a big fan of festivals, so when I spotted a festival style set up with festival staples like Italian sausage, pizza, and funnel cakes, I knew I found the place I wanted to eat. I ordered a slice of pepperoni pizza, and got a Mountain Dew Kickstart from a vending machine, as it was about a dollar cheaper than getting a drink at any of the food areas. I then headed back to the Double Fine booth, and went inside the staff tent that was set up beside the booth. I ate my food, and talked with Spaff until the exhibition hall closed at 6:00PM.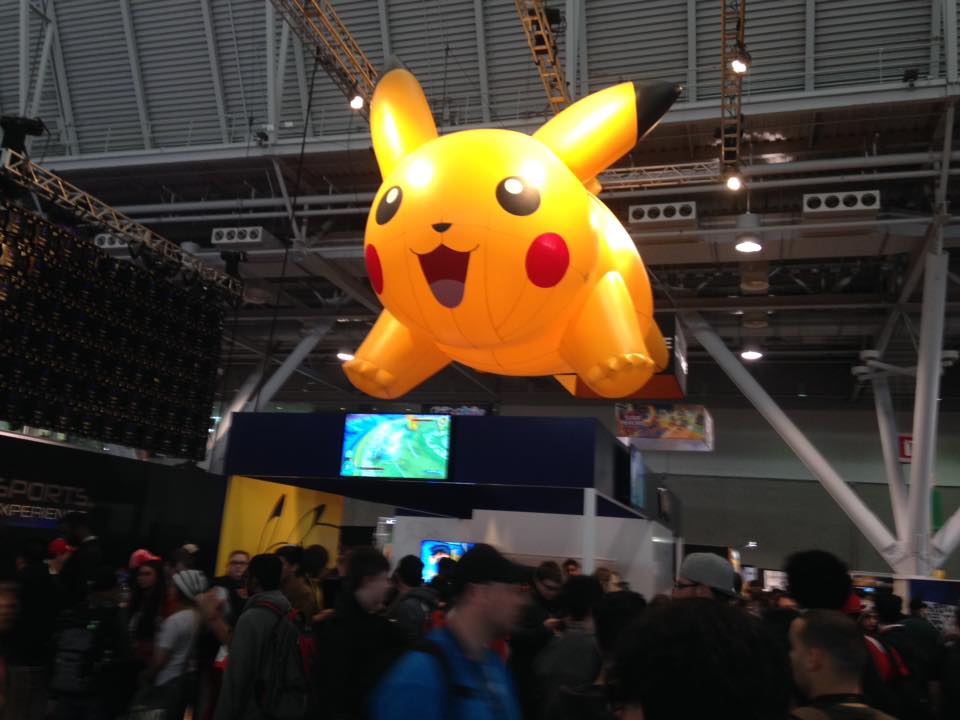 I told Spaff that I'd help the entire weekend, and decided to head back to my car. The convention itself didn't end until midnight, but I was quite tired, so I decided that I'd check out what PAX East had to offer outside of the exhibition hall some other night. I had a long walk ahead of me. Since the traffic was intense coming into the convention area, I parked in the middle of downtown Boston. I would not recommend anyone to go this route, as it was several miles away from the convention center and it didn't have a convention discount parking rate. While I paid $15 to park for the other two nights, I ended up paying the maximum rate of $40 my first night there. I also recommend driving around to get a feel of the area before parking, if you park a long distance from the event, as I ended up getting lost and walking around for three hours before I got back to parking garage. The good news though, was that with my car picked up, and the parking fee paid, I could head back out of Boston and get a good night's sleep.