Even those who don't put Lucasfilm's 1988 fantasy opus Willow on the highest pedestal will acknowledge that the late James Horner delivered a barnburner of a score. Thus it is in everyone's interest, if not budget, that Intrada Records is giving it the prestige treatment with a two-disc expanded soundtrack album:
At last! Magnum opus fantasy score by James Horner receives expanded 2-CD set! A LucasFilm Production, Ron Howard directs, scripted by Bob Dolman, story by George Lucas who also executive produces with Val Kilmer, Warwick Davis sharing majority of the screen time with Joanne Whalley, Billy Barty, Jean Marsh all nearby. Evil sorceress Bavmorda imprisons all pregnant women in her domain to prevent birth of a baby prophesied to bring about the end of her reign. Said baby is born and cast adrift, with Bavmorda, her vicious Nockmaar Hounds and her army in pursuit. Enter Willow Ufgood and the Nelwyns, who find the infant. A perilous adventure ensues that involves the Brownies, a fairy queen, an aging enchantress… and flamboyant rogue and expert swordsman Madmartigan. James Horner took inspiration from rousing action and swordplay as well as fantastic special effects made by ILM, including landmark early use of digital morphing technology, a CGI breakthrough. Film unfolds with generous amount of dazzle dazzle and derring-do but also offers darker side to fantastic tale, especially in latter battle and climactic duel sequence. Horner showcases his energetic youthful big-orchestra vernacular on one hand while balancing with his newly-maturing severe, intense musical vocabulary, resulting in incredibly wide-ranging score. Richly drawn main theme anchors, makes key appearances, shares time with exhilarating theme for Madmartigan, takes back seat to ferocious sequences, then ultimately brings score home. Besides colorful array of material, score is also notable for several lengthy cues, amongst the longest of the composer's career. Massive pieces often play as movements of a symphony, developing ideas with cohesion, complexity, generating considerable tension, then relief - no easy feat: "Canyon Of Mazes" (7 minutes), "Tir Asleen" (10 minutes), "Bavmorda's Spell Is Cast" (18 minutes), "Willow The Sorcerer" (12 minutes) are massive, masterful works for large symphony orchestra. Generous original 1988 album featured over 70 minutes of music but film's wall-to-wall scoring included over 100 minutes of music! Finally, on this Intrada 2-CD presentation, some 107 minutes of music by Horner appears, with a wealth of previously unavailable cues, including aggressive, fierce "Death Dogs", colorful and fantastic "Enchanted Forest", and riveting and florid "Sled Ride", all courtesy LucasFilm and Disney, mastered from original digital stereo mixes made by Shawn Murphy at the scoring sessions and beautifully preserved by engineer Simon Rhodes. Front cover art by John Alvin, package design by Kay Marshall, booklet notes by Frank DeWald. Score recorded in January & February 1988 at Abbey Road Studios. Greig McRitchie orchestrates, James Horner composes, conducts. Intrada Special Collection 2-CD available while quantities and interest remain!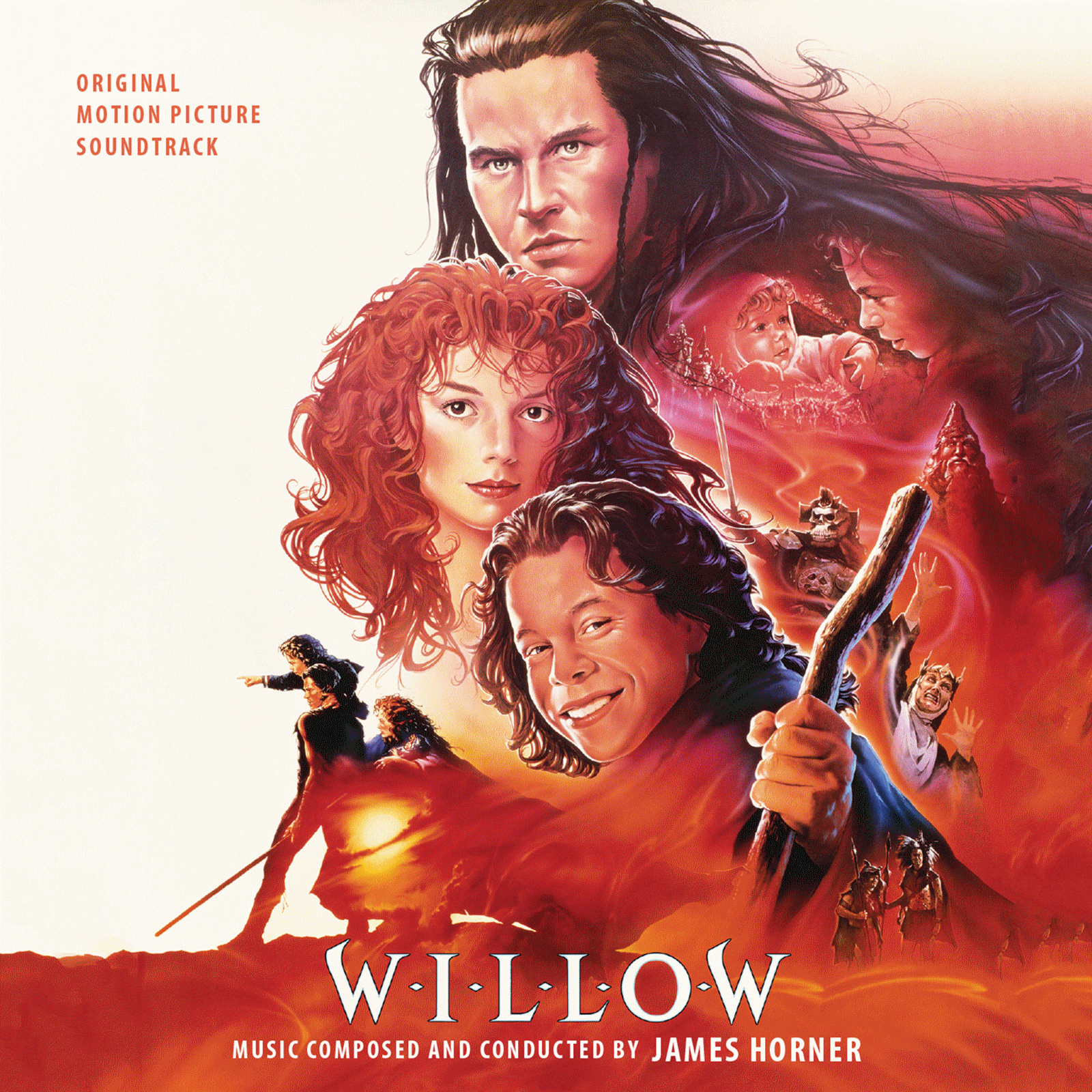 Intrada produces these things in limited quantities, so run and buy if you're in the market.
Source: Intrada