Telltale's latest Pilot Program title is a hark back to their first ever game, the pleasant
Telltale Texas Hold 'Em
, except this time you'll be playing against four famous gaming and internet characters who have never shared the screen before now (except the Heavy wearing Max's head in
Team Fortress 2
of course).
We dutifully review it within
just a week
of its release! Wow!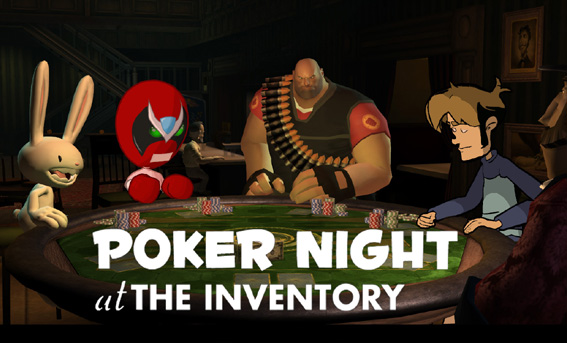 Okay, let's get this out of the way: I am not a professional poker player. I have played a lot more
Telltale Texas Hold 'Em
than I ever have played cards in real life. I don't even know if three of a kind beats a straight. But I do know missed opportunities when I see them.
Poker Night At The Inventory
has several that hold it back from greatness.
The main attraction is getting to interact with four famous characters as they interact with each other for the first time, playing a hand of poker with the player (YOU!). The setting is The Inventory, a secret club where gaming characters hang out when not taking part in their game. The roster consists of Max, Strong Bad, the Heavy from
Team Fortress 2
and Tycho from Penny Arcade.
While they're your gaming partners I was happy to see
Tales of Monkey Island
's Van Winslow as a guide to the club and general game announcer. I was hoping he'd turn up to be an unlockable poker player, but sadly not. In fact I was hoping that any of the characters making cameos in the background – Flint Paper, Sam, Pom Pom, Monty Muzzle, etc. – would suddenly pop up and say "mind if I cut in?"
"I am not a moonlighter!"
Missed Opportunity No. 1: No Unlockable Extra Characters. Why the hell not? Granted, they'd have to pay the voice actors, but what about Van Winslow? Matt Chapman's already playing Strong Bad, so why not Homestar Runner? They've got Max and Tycho, why not Sam and Gabe? They could've got any actor from
Sam & Max: The Devil's Playhouse
to do a few extra lines surely, as they must have been making the two games simultaneously? It really would've been nice to have unlocks worth playing for (although TF2 obsessives will buy it for the secret items for that game), and extra characters to play against would've added some much-needed longevity.
(As a side point irrelevant to the review, I'm prepared to bet – not All In perhaps, just about a thousand or two – that the beloved Guybrush Threepwood was originally planned as part of the team. I'm guessing the situation at LucasArts prevented that and Telltale put in either the Heavy or, more likely as he's not really a game character, Tycho.)
While the others seem to fit naturally, Tycho is in many ways the odd man out of the squad. The
Penny Arcade Adventures
are really loosely referenced once (he mentions a liking to shotguns), but otherwise he's both not a major game character or in a Telltale game. He is also by far the least fun to play against. He's infuriatingly smug, a poor loser, and often replaces actual humour with swearing. I've got nothing against swearing, but when you've got Max, Strong Bad and even the Heavy making witty complaints and Tycho just goes "f**k this s**t" I began to regret his inclusion. He does have some funny lines at least, admittedly.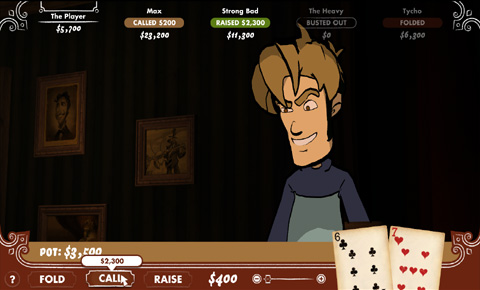 "Who knew cards were capable of sodomy?"
Fortunately the others hold up better. Max and the Heavy in particular are hilarious and consistently fun. Strong Bad feels a little out of his element here, but is at least fun to play with and has the best comment upon elimination – simply a very long "noooooooo!"
The game itself is solid, even if the hands get occasionally predictable and the comments begin to repeat. It feels the same as
Telltale Texas Hold 'Em
, and I guess that is probably the source of much of my disappointment. As an update to Telltale's first game with established characters replacing the old stereotypes it's acceptable, but as a new game or sequel? There's not enough here, and it certainly doesn't build on their first Poker game.
Missed Opportunity No. 2: Multiplayer. I know Telltale haven't done this before, and I don't know if I can even count it as a con as the whole appeal of the game is playing against famous characters, but why not? It's a multiplayer game, there should be some sort of online multiplayer option. I won't hold it against
Poker Night
, but that's definitely a Missed Opportunity.
"So Max, you're one of those Pokemons right?"
Missed Opportunity No. 3: Other Games. Granted, this is 'Poker Night', but why not an unlockable Blackjack, Car Bomb, Bluster Blaster, or that Strong Bad 'Maps & Minions' board game sitting on that table there? A round of poker's fun, but even for $5 there's not much here that wasn't in
Texas Hold 'Em
. Some options and variety other than new decks or tables would've been appreciated.
If you don't own Telltale's previous poker game and want a replacement for Solitaire or
Plants Vs Zombies
, you could do a lot worse than
Poker Night at the Inventory
. Despite it just being
Telltale Texas Hold 'Em
with famous characters, it's definitely enjoyable for the odd hand.
I hope it does well and Telltale continue to add more non-adventures to their catalogue, and I doubt anyone will regret picking it up. With just a few additions however, I would've called it essential. Shame.
Chris 'The Tingler' Capel, November 29th 2010
PROS:
Funny, interesting location, good banter, and an entertaining game of poker.
CONS:
No multiplayer, unlockable characters or other minigames, Tycho's infuriating, just
Telltale Texas Hold 'Em
with new characters
SCORE: 3 SKULLS