Double Fine is coming to PAX East in Boston this weekend
. They'll be at booth #6123 showing off Day of the Tentacle Remastered and Headlander. They'll also have three Double Fine Presents titles, Gnog, Gang Beasts, and Everything. A new title will be shown at the show as well.
They'll also be selling merchandise at the show, including the Raz and Two Headed Baby Pinny Arcade pins, and a new special edition game bundle box. The bundle contains 10 games, with 10 game cards drawn Jon Magram and Melissa King. The game cards can be seen below (click to see them in a larger size).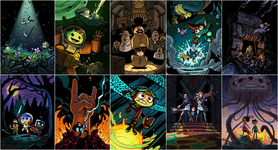 I'll also be volunteering at the Double Fine booth at PAX East this weekend, so if you're at the show, come by and say hello. :)