What's amazing about the Monkey Island games is that no matter how long they've been around, nor how certain you are that you've plundered every nook and cranny these thirty years, there always somehow seems to be one more stray line or exchange lurking somewhere in a remote interactive corner.
For instance, did you know that you can interact with the pirates wandering the Mêlée map long before you get started on your insult swordfighting career? As you already know, the ability to buy a breath mint from the shopkeeper is triggered by your first encounter with Otis, whose foul breath Guybrush is repelled by. But though the cost of a roll is but a single piece o' eight, if you make the inquiry when you're flat broke, the storekeeper will make it clear he's not in the charity business: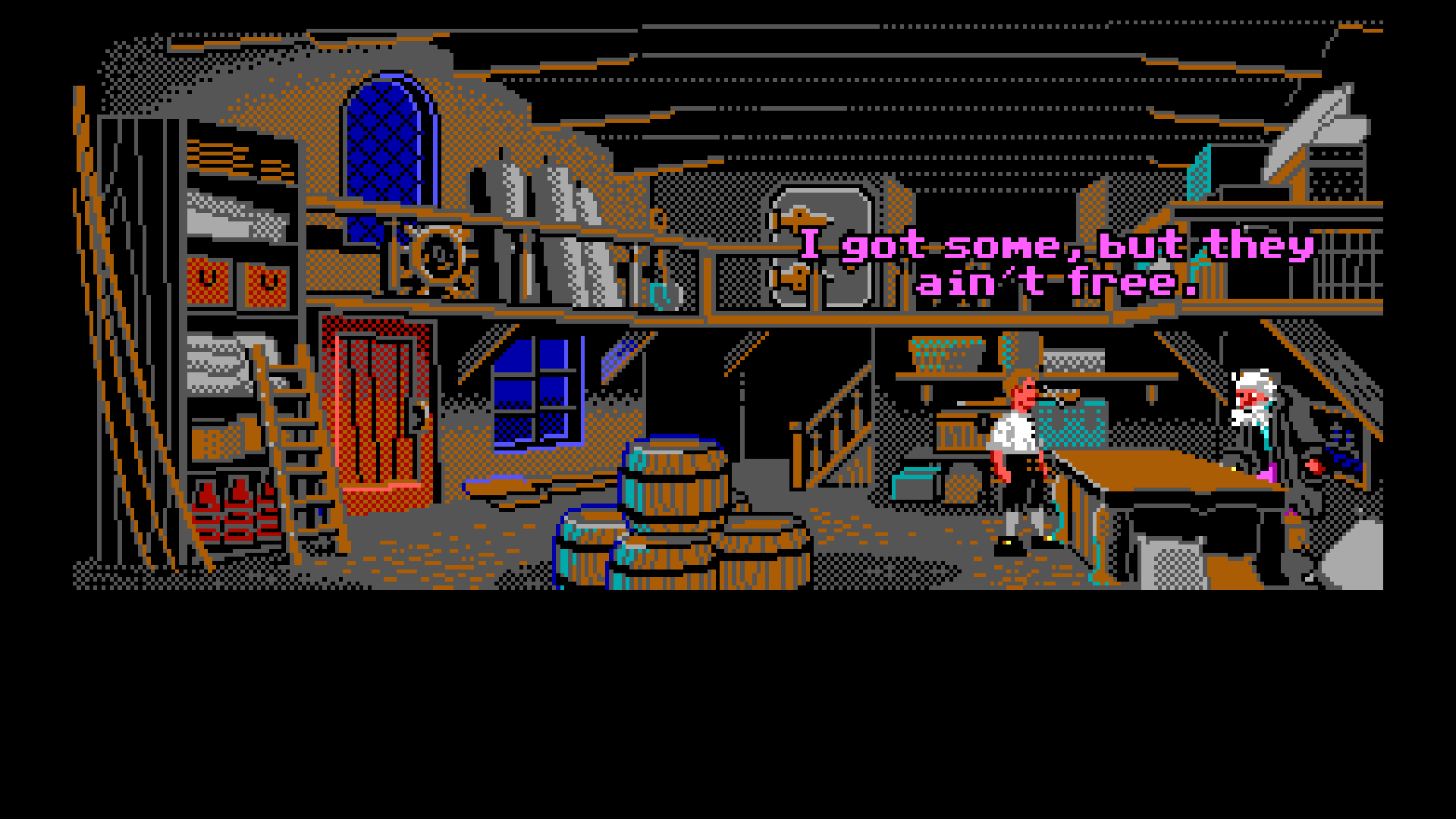 So, it's off to the circus to get a head trauma payday. But wait just one collar-pickin' min-jiffy. At this point, Mêlée citizens are appearing on the once empty aerial map. You may not have a sword to challenge them with, but put yourself in one's path, and you can still have a chat. When you do, you may notice the dialog option to beg for money!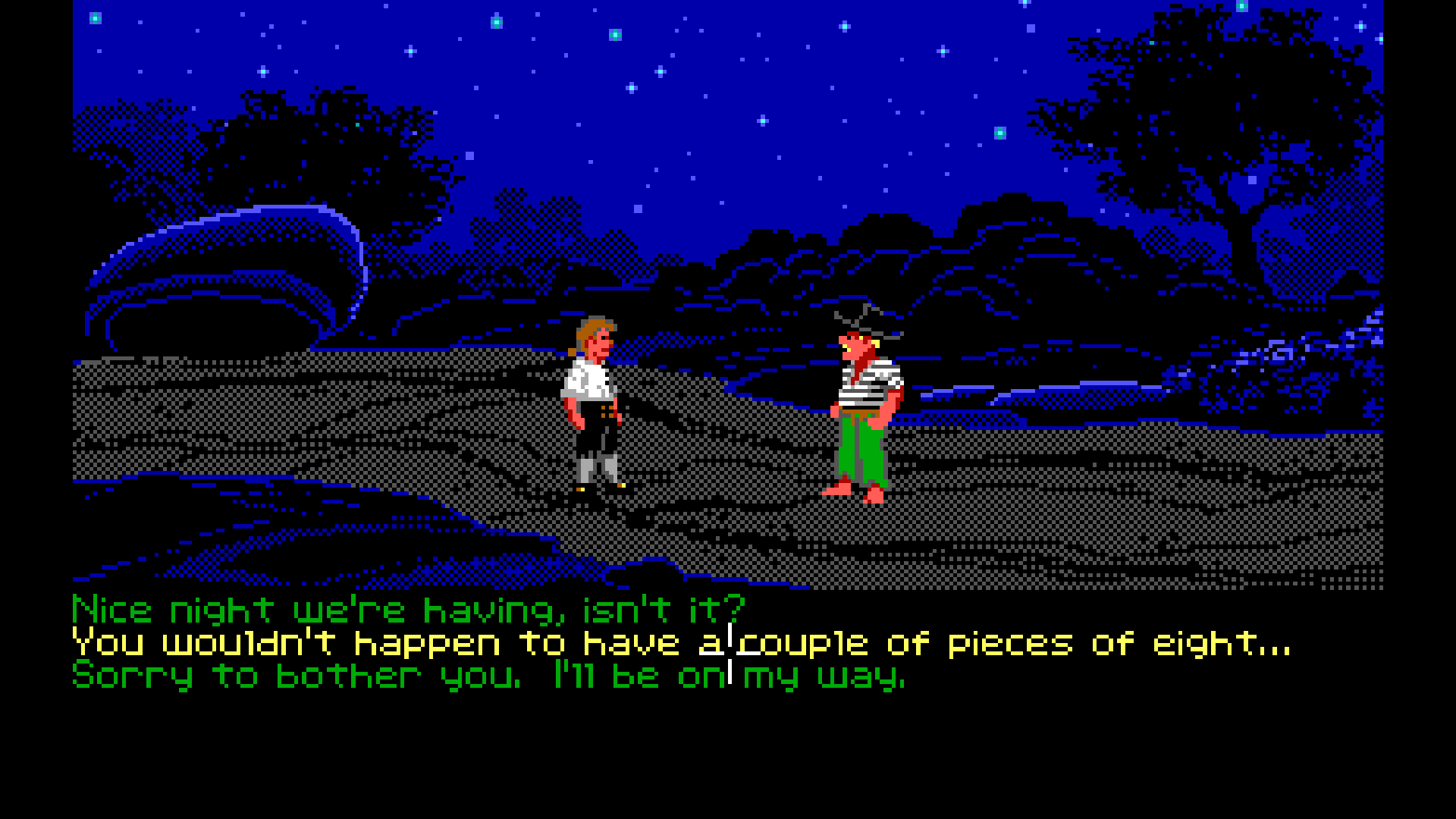 What the heck, let's see if this guy can find it in his heart to kick some change at a wanna-be pirate with a humanizing hygiene problem: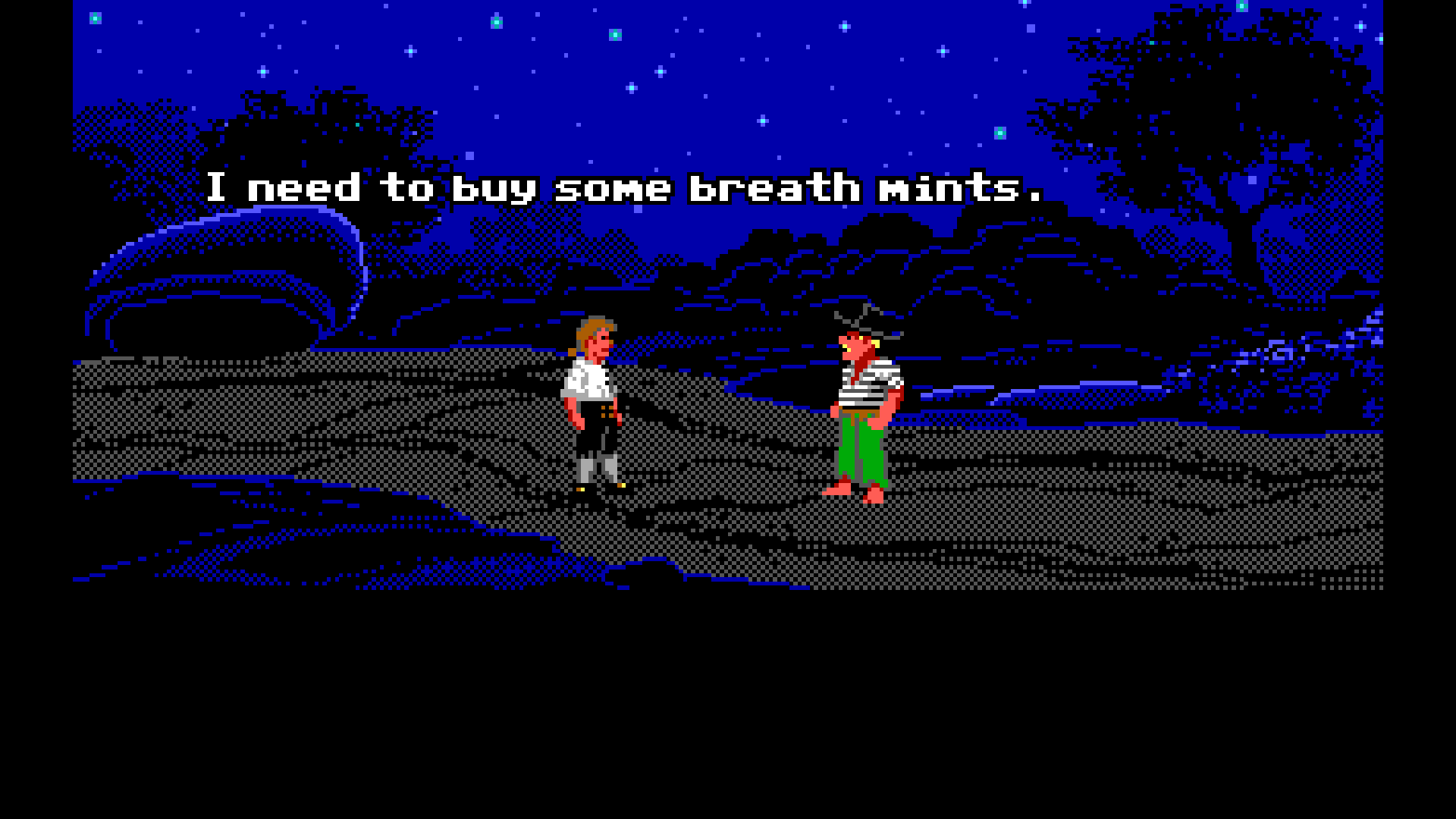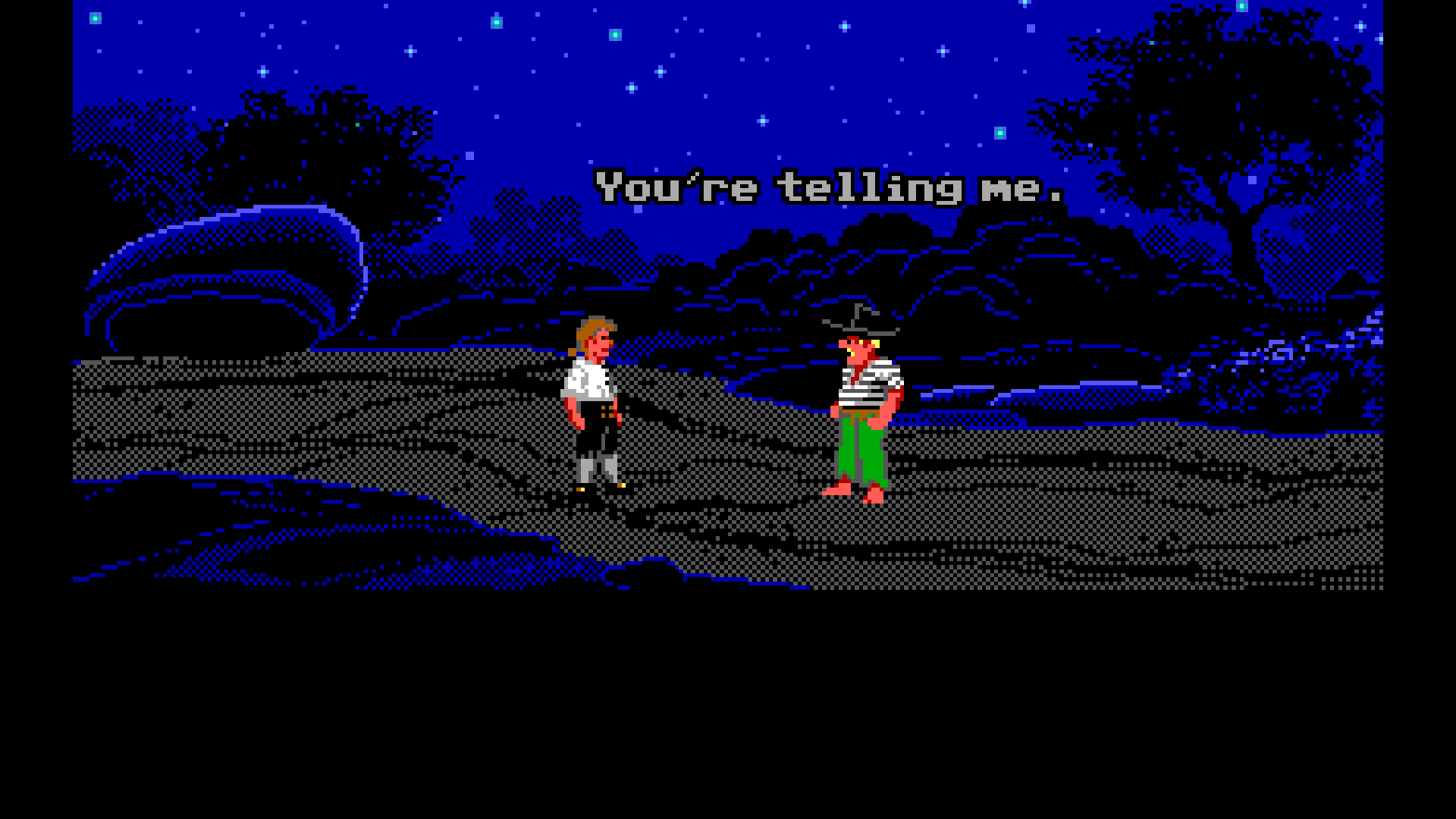 And just like that, you've got two pieces o' eight in your pocket. Wow!
Let's not pretend that Guybrush grew any less desperate in Monkey Island 2. You're no doubt aware of the repeatability of the whole "polish the pegleg for a piece o' eight" hustle, which many of us reduced ourselves to in order to pay off college debts. But how many times will Frank cough up remuneration? Is it possible, for the sake of argument, to grind your way to Captain Dread's 20 piece o' eight ask this way, obviating the proper puzzle solution? Well, no. The scripters saw your sneakiness coming, so he'll always run out just in time: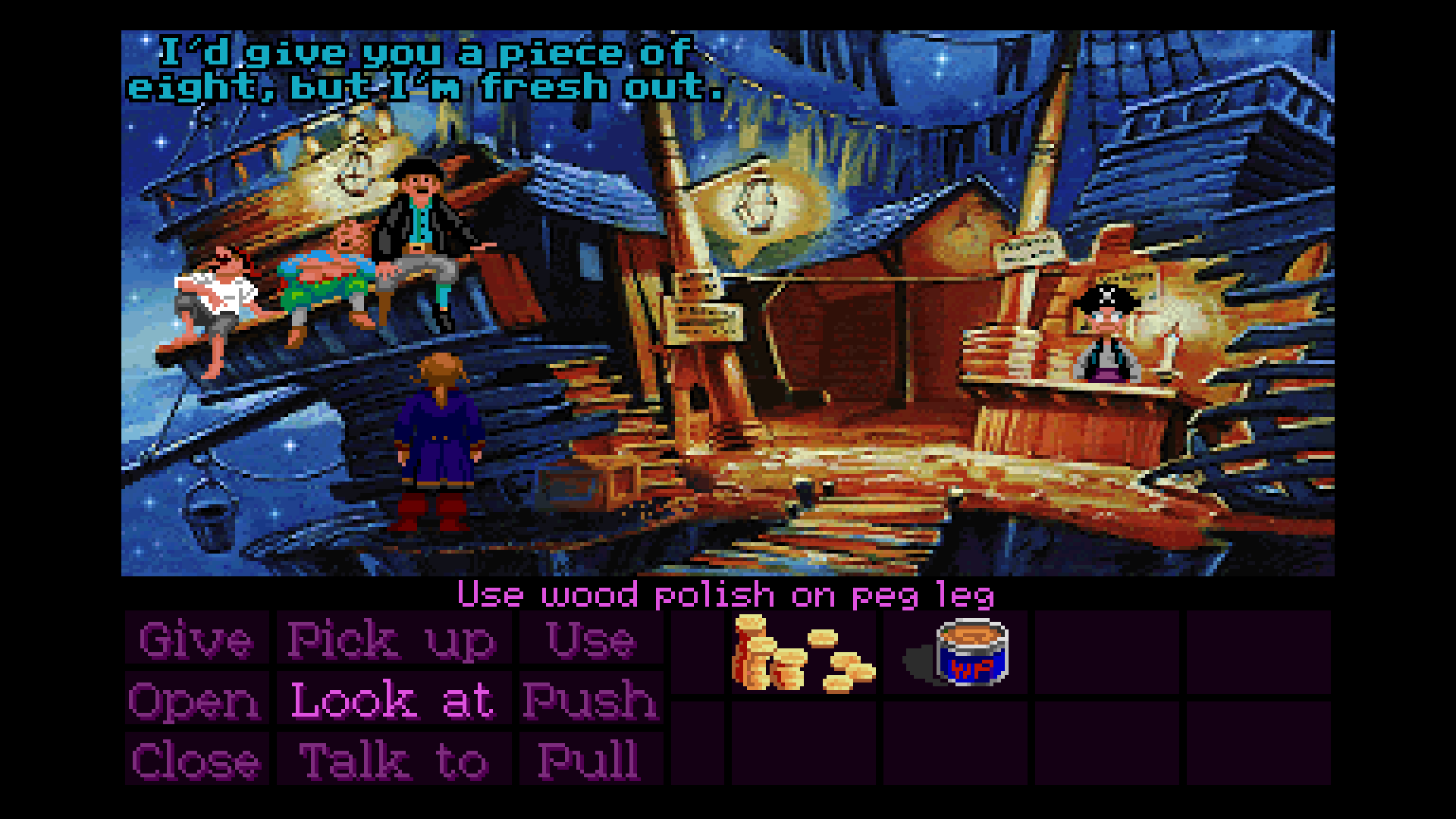 Then it occurred to me: If the games are so fastidious about closing financial loopholes, what about Stan's Previously Owned Coffins? True enough: Guybrush has no use for the fancy merchandise Stan is hawking and which you instead lock him inside; there is never an ability or need to actually buy anything.
But you can still express interest, to which Stan will ask how much money you've got. Now, by the time you arrive on Booty Island you'll have around 400 pieces o' eight, representing the Bloody Lip salary you defrauded minus the cost of Dread's charter and whatever you might have spent gambling or at the boutique shop. Whatever the specific amount in your pocket, it's evidently nowhere in the ballpark, as the exchange will play out like this: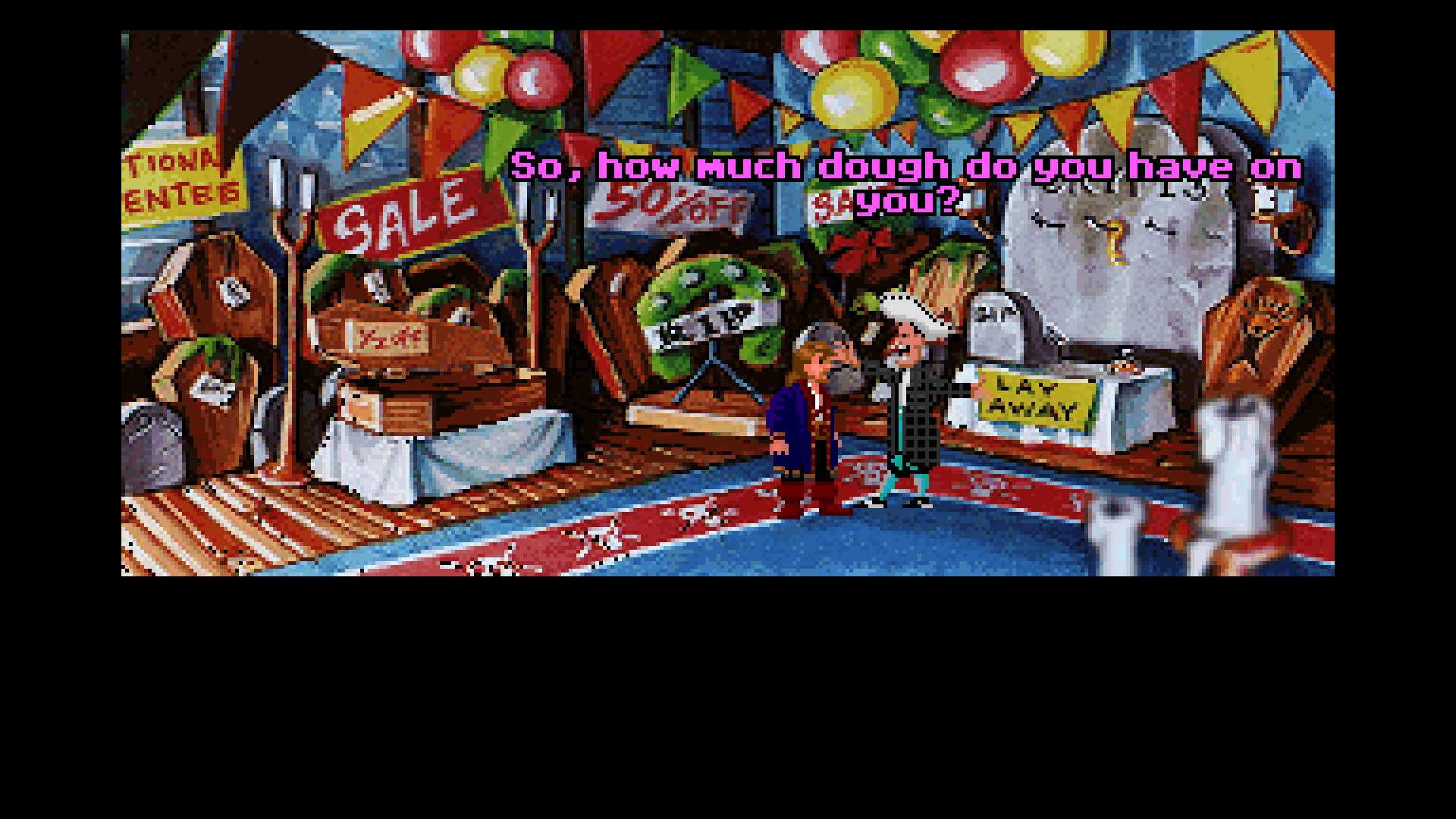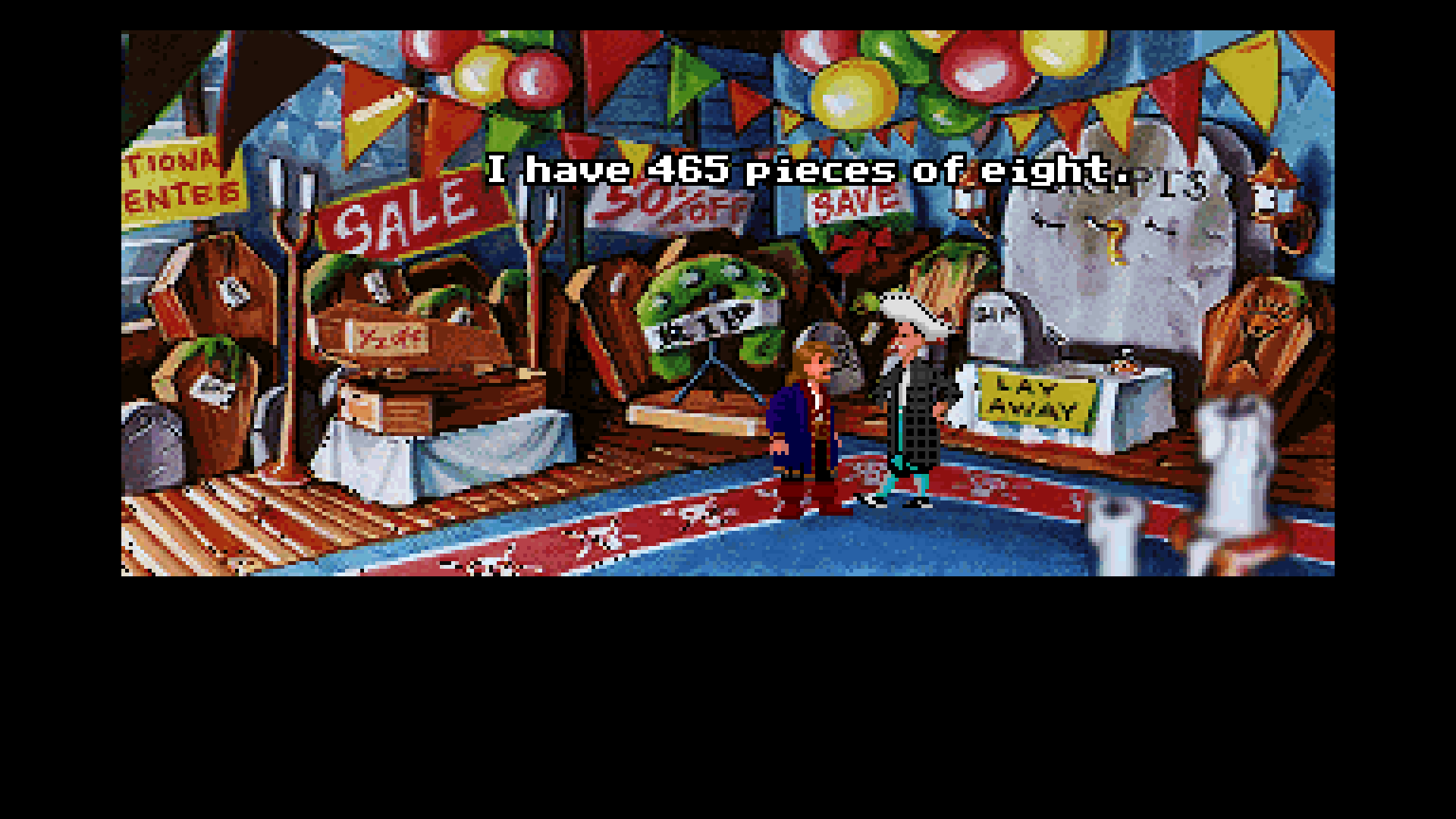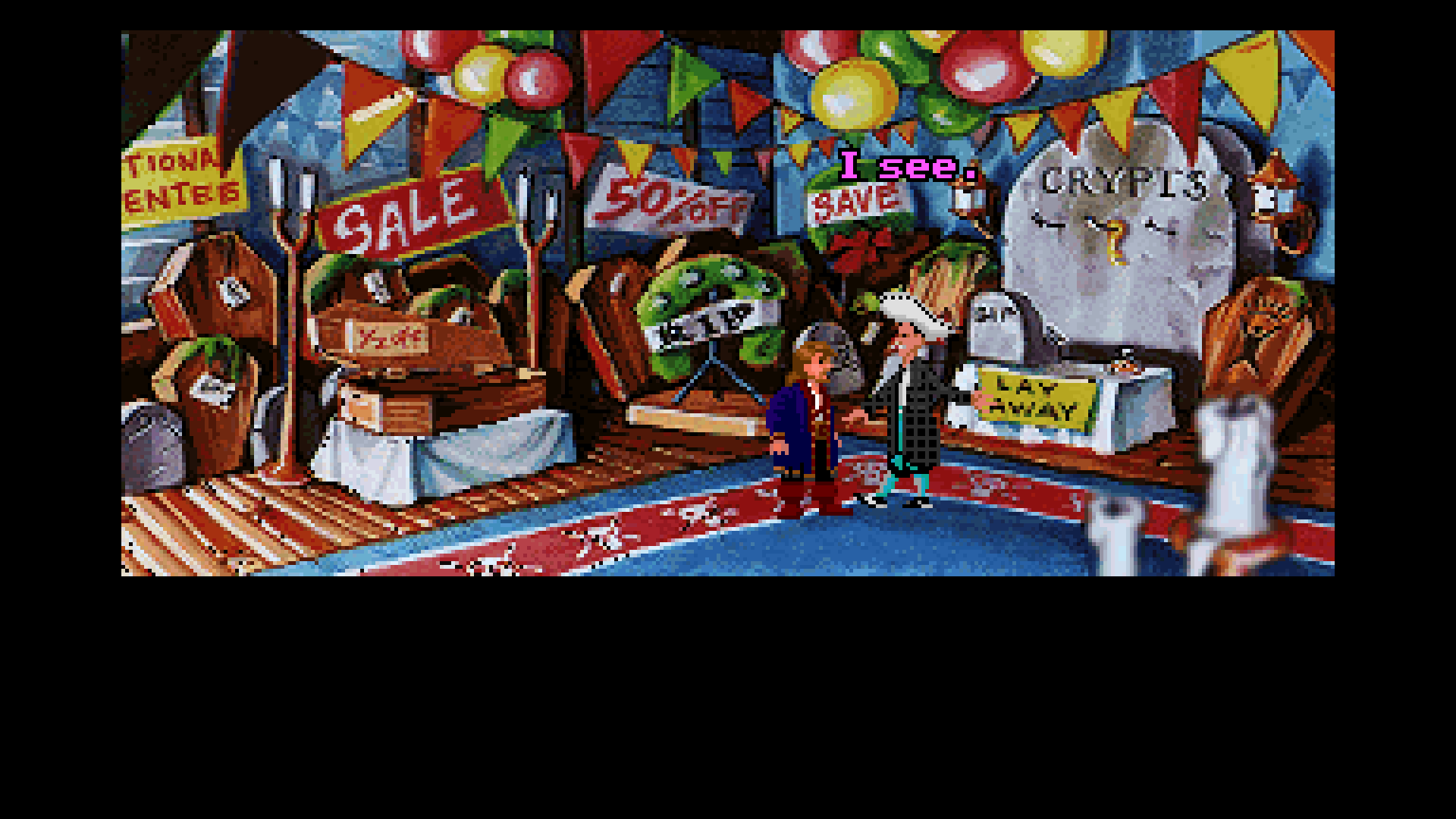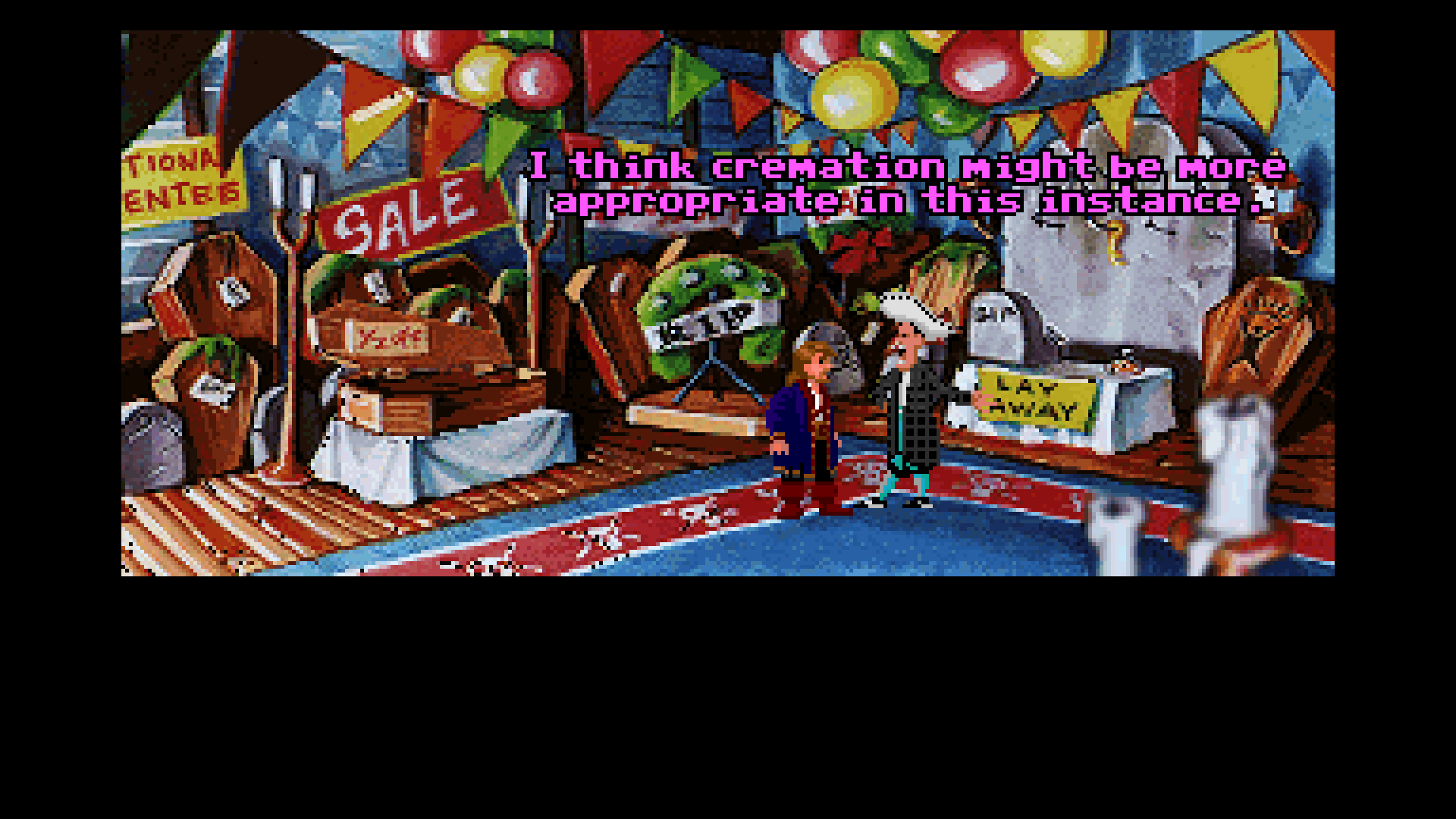 Now here's where things get cute. There's a point in the game where you gain 6,000 pieces o' eight by selling your spitting contest plaque to the antique dealer. Since that's exactly how much Captain Kate charges and since that's clearly what the money's for, most of us, either our first time through or on our nth replay, would go directly to Capsize accordingly.
But suppose at that moment of being freighted with loot, you instead paid a visit to Stan, to see if the deal is any sweeter for him now. There's just no way it's possible he's gonna scoff at that kind of money, right?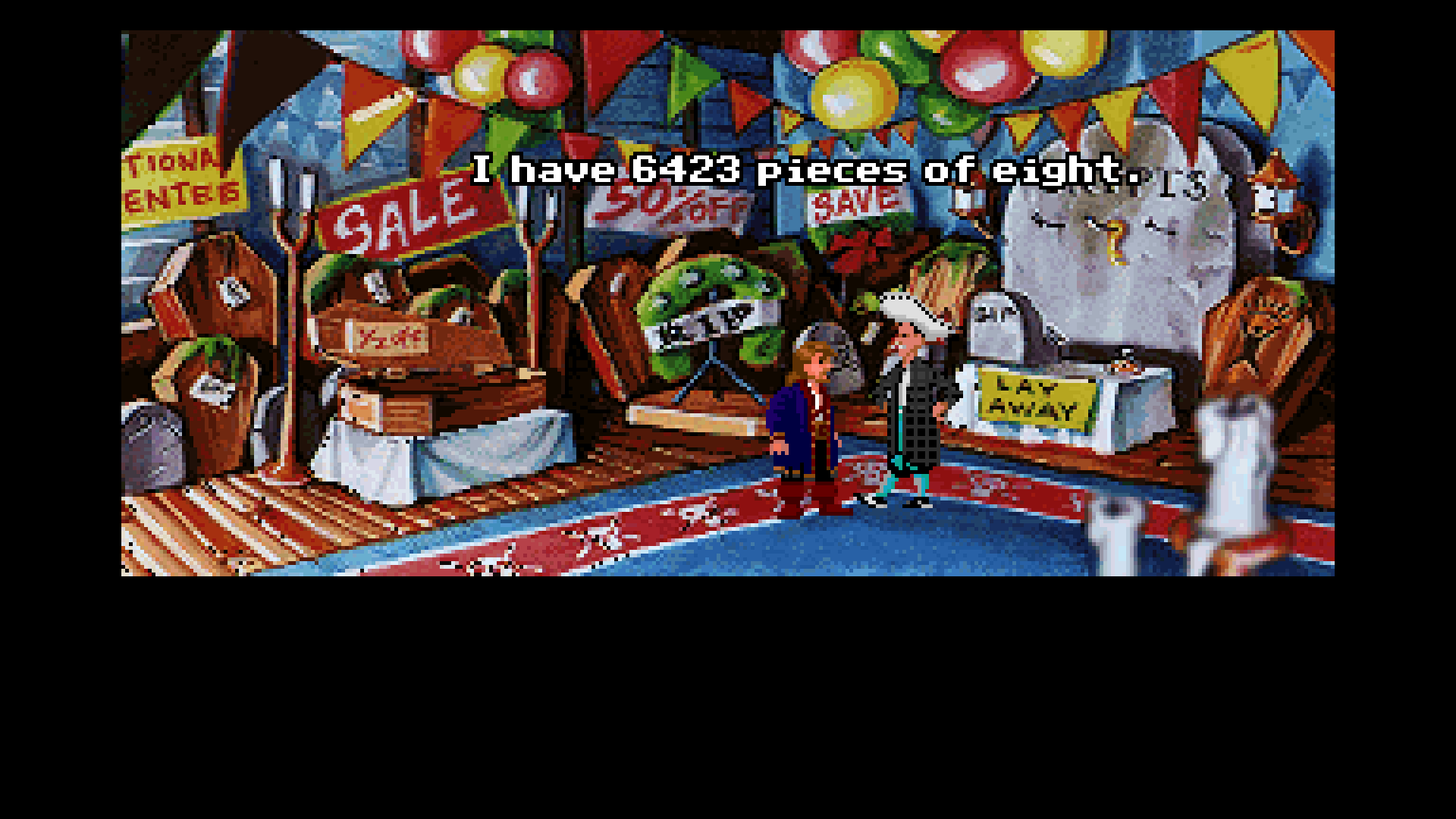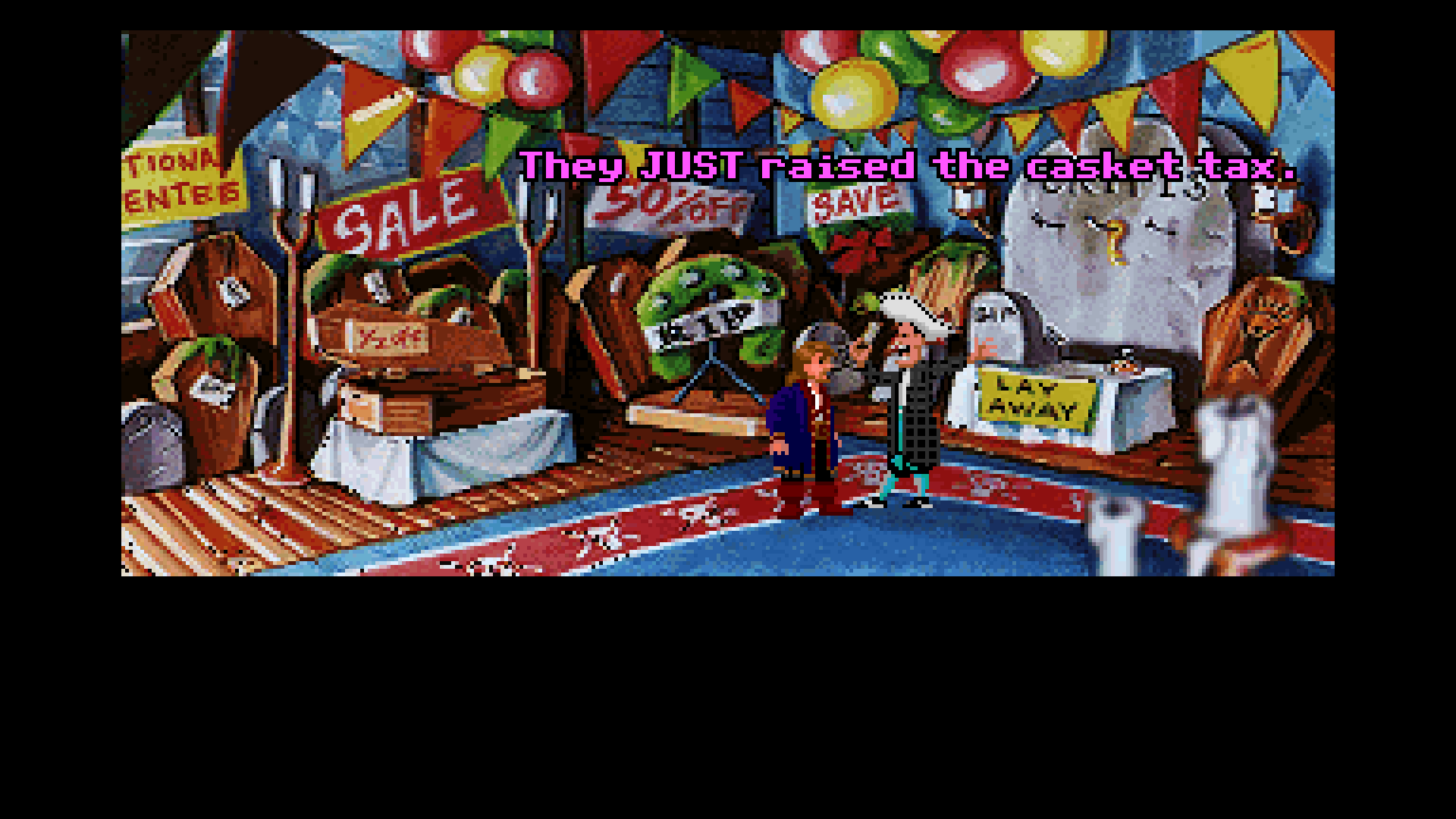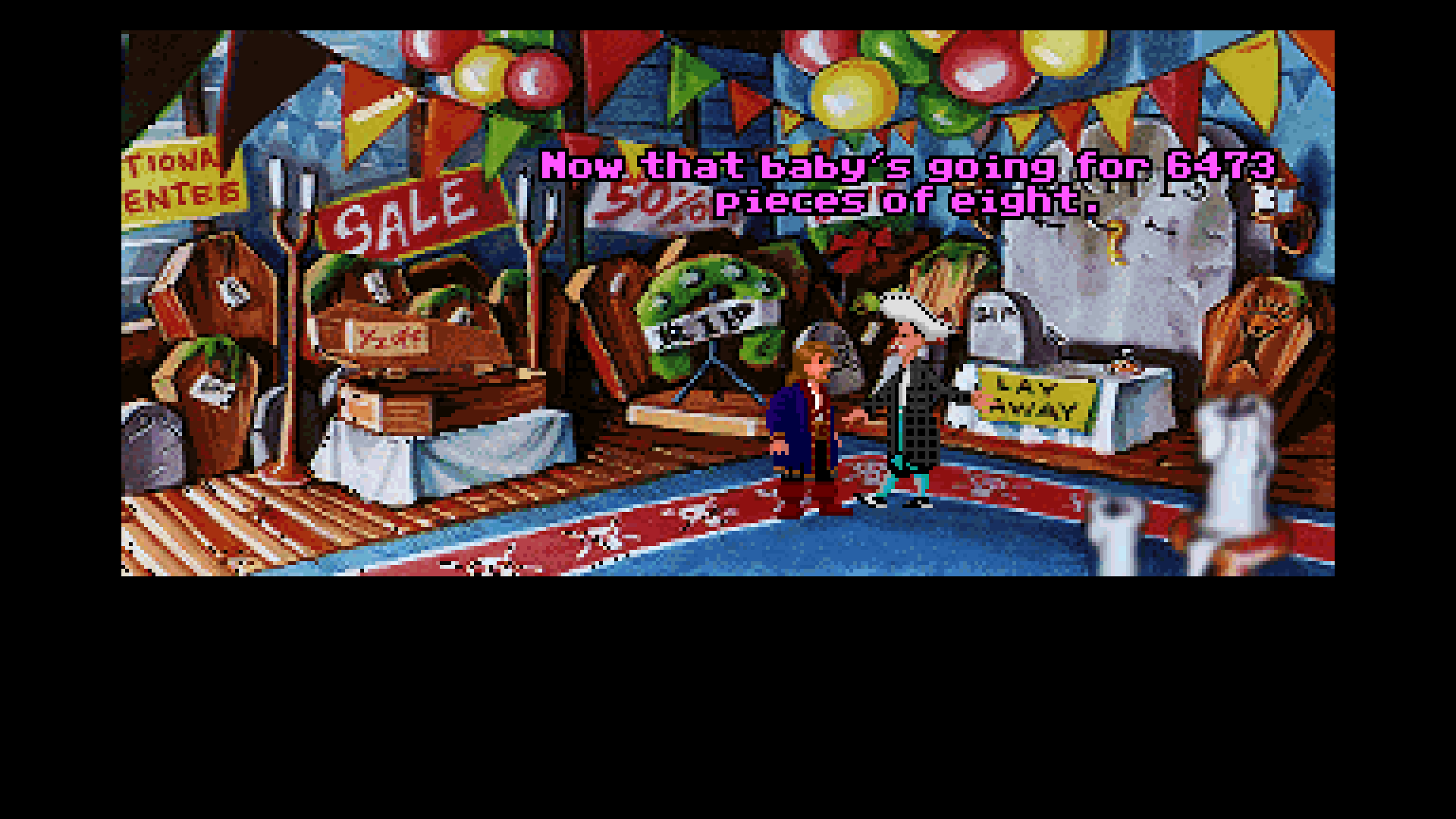 So, no matter how rich you are, the price tag is always going to be 50 more.* An elegant enough way to tie off a loose end, from a programmer perspective. But how about from the standpoint of respecting the nuances of globally beloved three-dimensional characters, goddammit?! Am I supposed to believe Stan, who would stand on his head to make you a deal, whom Guybrush successfully haggled down from 10,000 to 5,000 to acquire the Sea Monkey in the first game, would leave such a sum of money on the table over a paltry 50 pieces of eight?
No.
Not my Stan.
Anyway, that's why Monkey Island 2: LeChuck's Revenge is the worst game ever made.
An essay
---
* A door prize awaits the first commenter who researches how the Special Edition manages to work around this in the voicework.