Articles

LucasArts.com 20th Anniversary History Feature
Part Three: Broadening Horizons, 1995 – 1998
This is the third of a four part history of LucasArts. The information in this story is based on company documents, historical publications from other developers and publishers, and past and present employee recollections.
By the mid 1990s, LucasArts had grown into a developer and publisher with a diverse lineup of products, which included games based on original properties and George Lucas' most famous motion pictures. While LucasArts had always been known for the engaging cinematic feel to its games, this era brought forth new technologies that allowed for the creation of even more immersive game experiences.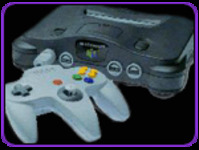 During this period, development teams at LucasArts were able to begin working on next generation game consoles like Sony PlayStation and Nintendo 64. 3D-accelerated graphics for the PC allowed for even more visceral and engaging gameplay experiences. These new technical achievements enabled LucasArts to bring its rich worlds to life as never before.
The exploration of new game consoles and hardware was complemented by LucasArts' desire to begin experimenting in new genres of gaming, including first person action (Star Wars®: Dark Forces®, Star Wars Jedi Knight®: Dark Forces II, Outlaws®) and strategy (Star Wars Rebellion®, Afterlife®). Equally important was LucasArts' decision to begin producing games with multiplayer components. Titles like Outlaws, Star Wars: X-Wing® vs. TIE Fighter®, and Star Wars Jedi Knight: Dark Forces II gave gamers their first chance to play LucasArts games online against others.
Original Adventures
Full Throttle®

(May 1995, PC CD-ROM, Windows, Mac CD)

The Dig®

(November 1995, PC CD-ROM, Mac CD)

Outlaws

(March 1997, Windows)

The Curse of Monkey Island®

(November 1997, Windows)

Grim Fandango®

(October 1998, Windows)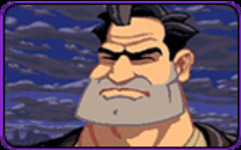 In Full Throttle, another one of LucasArts' classic "talkie" CD-ROM adventures, players assumed the role of Ben, a biker framed for the murder of Malcolm Corley, head of Corley Motors. As the adventure begins, players begin a quest to clear Ben's name by finding the real killer. In addition to regular adventure game sequences, Full Throttle was notable for its first-person motorcycle action elements, where Ben battled rival bikers on winding canyon roads. Full Throttle, known for its outstanding voice acting, featured the voice of Mark Hamill as the menacing villain Ripburger. Ben's adventures will soon continue, as LucasArts has announced that a sequel is currently in production.
When a mysterious asteroid suddenly appears in an unstable orbit around earth, it's up to the player and a team of NASA astronauts to neutralize the threat in The Dig. This adventure game, based on a story written by Steven Spielberg for his Amazing Stories TV series, immersed players in the role of Boston Low. Low was an astronaut voiced by actor Robert Patrick, who is perhaps best known for playing Arnold Schwarzenegger's rival in Terminator 2. The ensuing adventure featured more than 200 locations and a storyline that lived up to the game's tagline: "In the Dead of Space, Something is Alive."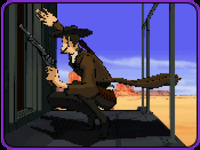 In 1997, LucasArts set out to create a spaghetti western adventure in the vein of Sergio Leone movies like The Good, The Bad and the Ugly. The result was Outlaws, which told the tale of James Anderson, an ex-Marshall who finds that a ruthless group of villains killed his wife and kidnapped his daughter. The game begins as Anderson sets out to find his daughter and exact revenge against his wife's murderers. Outlaws featured a distinctive visual style predating the current cel animation phenomenon. The game mixed the adventure and action genres with a strong story and real-time first-person 3D perspective. This perspective allowed players to explore locations such as an abandoned mine, and fire weapons that included a .45 six-shooter and a 10-gauge shotgun.
After a six-year absence, Guybrush Threepwood's misadventures returned in The Curse of Monkey Island. Guybrush, still hoping to marry Elaine, unknowingly slips a cursed ring on her finger, which transforms her into a golden statue. In turn, Guybrush needs to find a way to turn Elaine back into her beautiful self, all the while trying to prevent LeChuck from making Elaine his bride. Familiar characters such as the Voodoo Lady and Wally the cartographer make appearances. And of course, what would a Monkey Island game be without some insult sword fighting?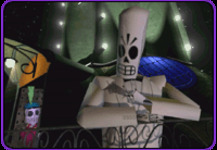 A dramatic and mythical story of crime and corruption set the stage for Grim Fandango, a film noir-inspired adventure game that chronicled the story of Manny Calavera, a travel agent in the Land of the Dead. Working for the Department of Death, Manny's job was to pick up people in the Land of the Living and bring them to the Land of the Dead for a four-year journey across the underworld. But Manny has a big problem: He can't meet his sales quota because he's not getting any good clients. Soon, Manny discovers a conspiracy is afoot, and the real adventure begins. Grim Fandango was heralded for its incredible visual style inspired by Mexican folklore, not to mention its engaging story with 55 characters and 7,000 lines of dialogue. The game's interface also was unique, as players used their keyboards - instead of a mouse - to move a 3D rendition of Manny around the game environment.
Star Wars
Dark Forces Series:
Star Wars Dark Forces

(March 1995, PC CD-ROM, Windows, Mac CD, PlayStation)

Star Wars Jedi Knight: Dark Forces II

(September 1997, Windows)

Star Wars: Jedi Knight: Mysteries of the Sith™

(February 1998, Windows)
LucasArts made its triumphant entry into the first-person action genre with Dark Forces, a game that contributed to the evolution of that genre with its addition of a compelling lead character and storyline. Also in Dark Forces, for the first time players could become immersed in the Star Wars universe in glorious real-time 3D. The storyline centered on Kyle Katarn, a former Imperial officer who joined the Rebellion. Katarn's adventure involved infiltrating the Empire to stop production of the Dark Trooper, a new kind of stormtrooper. The cutting-edge 3D game engine allowed LucasArts to tell a Star Wars story as never before. Immediately upon the game's release, players began clamoring for a sequel with multiplayer components.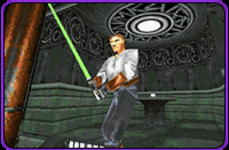 That highly anticipated sequel, Jedi Knight: Dark Forces II was released just over two years later. Featuring an all-new 3D engine, Kyle Katarn - now a Jedi - was back, this time on a quest to stop seven dark Jedi from unleashing the powers of a hidden Jedi burial ground. During the game, Kyle battled against dark Jedi such as Jerec as well as Gorc and Pic, twin Jedi who worked as a team. Jedi Knight was remarkable because it challenged the player to choose between pursuing the light or dark side of the Force.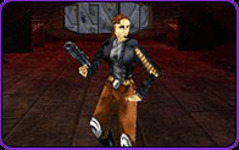 The final segment of the game was unique to each side of the Force, and different Force powers were available on each side. Jedi Knight included a much-requested multiplayer mode, allowing gamers to face off in head-to-head matches, and use lightsabers in battle. As a result of these achievements, Jedi Knight was named Game of the Year by many print and web publications.
Hot on the heels of Jedi Knight was its expansion pack, Mysteries of the Sith. This was an ambitious add-on pack that included 29 immersive single and multiplayer levels. Furthermore, the game introduced a new playable character, Mara Jade, a former covert agent for the Galactic Empire. New Force powers also were included in the add-on pack, such as Chain Lightning. In fact, the game's unique final levels made players fight only with their Force powers.
Dark Forces Series:
Star Wars: X-Wing vs. TIE Fighter

(April 1997, Windows)

Star Wars: X-Wing vs. TIE Fighter: Balance of Power Campaigns™

(December 1997, Windows)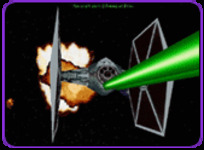 The idea behind X-Wing vs. TIE Fighter was simple: take Star Wars space combat online. While LucasArts' previous space flight games, X-Wing and TIE Fighter, featured detailed single player campaigns, neither included multiplayer combat. X-Wing vs. TIE Fighter changed that, and presented the ultimate battle between the Galactic Empire and the Rebel Alliance. This conflict was brought to life through a series of multiplayer missions. With nine different flyable ships, players could work cooperatively with up to seven wingmates on a LAN or three over the Internet. The Balance of Power expansion pack included an extensive single-player campaign, and new ships such as the Rebel B-wing and the Super Star Destroyer.
Rebel Assault Series:
Star Wars Rebel Assault® II - The Hidden Empire™

(November 1995, PlayStation, PC CD-ROM, Windows, Mac CD)
Two years after the release of the first Rebel Assault, LucasArts returned to the realm of full-motion-video action games with Rebel Assault II - The Hidden Empire. The game was similar in style to its predecessor, telling the ongoing story of rebel pilot Rookie One. The sequel contained 15 land, air and space missions, and provided players with an opportunity to fly the Millennium Falcon. Rebel Assault II also was notable because it featured new Star Wars live action video footage – the first shot since the original film trilogy had been completed in 1983.
Rebellion:
Star Wars Rebellion

(March 1998, Windows)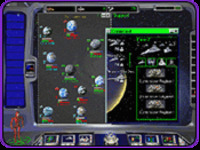 Continuing to explore new genres in the Star Wars game universe, LucasArts created the strategic simulation game Rebellion in 1998. As the commander of either the Galactic Empire or Rebel Alliance forces, players battled for control of the galaxy through both strategic plotting and tactical action. Set in a time after the conclusion of Star Wars Episode IV: A New Hope, the game included diplomatic, rescue and sabotage missions. With 200 worlds to explore in game, Rebellion was unique because it allowed the player to plot a strategy and then watch battles play out in a fully 3D tactical mode.
Game Consoles:
Star Wars: Shadows of the Empire®

(December 1996, Nintendo 64, Windows)

Star Wars: Masters of Teräs Käsi™

(November 1997, PlayStation)

Star Wars: Rogue Squadron®

(November 1998, Nintendo 64, Windows)
With the introduction of the next generation game consoles in the mid-90s, LucasArts released a slate of Star Wars games to take advantage of the new systems. First was Star Wars: Shadows of the Empire, a launch title for Nintendo 64 that introduced the character Dash Rendar, a maverick mercenary. Set between The Empire Strikes Back and Return of the Jedi, the game's plot involved Rendar's adventures to eliminate Prince Xizor, the lord of the black sun crime ring, who was maneuvering to assassinate Luke Skywalker. Shadows of the Empire included many unique vehicles and locations, as demonstrated in its famous first level, where the player controlled a snow speeder on the ice planet Hoth.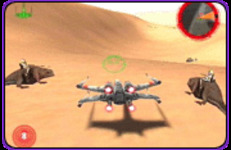 The PlayStation played host to Masters of Teräs Käsi, a Star Wars fighting game that told the story of Arden Lyn, an assassin who was asked by the Empire to take out high-ranking Rebels like Luke Skywalker and Han Solo. Playable characters included Luke, Chewbacca and Darth Vader. The levels in the game included locations such as the swamps of Dagobah and Hoth.
Finally, in November 1998 LucasArts introduced Star Wars: Rogue Squadron, a flight-action game for Nintendo 64. Players suited up as a member of the elite Rogue Squadron group and participated in huge X-wing dogfights. The snow speeder level from Shadows of the Empire was re-imagined for this game. Rogue Squadron also took advantage of Nintendo RAM pack, which allowed the game to have much higher-resolution graphics than normally possible.
Others
Big Sky Trooper®

(October 1995, SNES)

Metal Warriors™

(1995, SNES)

Indiana Jones® and His Desktop Adventures™

(April 1996, IBM, Windows, Macintosh)

Afterlife

(June 1996, PC CD-ROM, Mac CD)

Mortimer® and the Riddles of the Medallion™

(June 1996, Windows, Mac CD)

Star Wars: Yoda Stories®

(March 1997, Windows, GameBoy Color)

BallBlazer® Champions

(March 1997, PlayStation)

Herc's Adventures™

(July 1997, Saturn, PlayStation)

Star Wars: Behind the Magic™

(September 1998, Windows)
The mid to late 1990s also was a time of experimentation within LucasArts, as the company challenged itself to try its hand at different types and genres of games. These included the desktop adventure series (Yoda Stories and Indiana Jones and His Desktop Adventures), which were adventure games players could finish in about an hour. The random nature of these games set them apart because each adventure was different.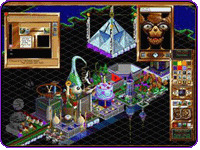 Another unique game was Afterlife, a strategic simulation where players were put in charge of building and managing both heaven and hell for an alien planet. If players did a good job, they were rewarded with pennies from heaven. That is, if they could avoid disasters like the Disco Inferno. Children's adventure games were even explored in Mortimer and the Riddles of the Medallion, which told the tale of a snail and his adventures through a magical world.
Unique console games also were produced during this period. There was an update to LucasArts' first game, BallBlazer Champions, created for PlayStation; Metal Warriors, a futuristic game in which players battled in robots against an evil Axis trying to take over Earth; Big Sky Trooper, an action/adventure game; and Herc's Adventures, a lighthearted two-player action game set in ancient times.
Finally, Star Wars: Behind the Magic was an engaging and comprehensive multimedia CD-ROM that was a chronicle of the Star Wars canon. Named CD-ROM of the year by Entertainment Weekly in 1998, Behind the Magic featured original content such as a Millennium Falcon walkthrough and a stormtrooper weapons test, as well as rare stills and footage from the original Star Wars film trilogy. It also featured a sneak preview of Star Wars: Episode I, a film that would become an important part of the next era of LucasArts' history.