Did Telltale save its A-Team for season three of The Walking Dead? I'm going to say yes, and that in a sense is too bad. There is no denying that this first episode is good, but couldn't they have done this with Batman?
As for "Ties that Bind"…
Take a step back to season two, and things were looking shaky. After a truly stellar predecessor, the game starting off shaky, at best, but completed in a satisfactory manner. Not great, but certainly good at least.
Here, things start off better, and I get the feeling Telltale now has shook off fears of not measuring up to previous Walking Dead games, at least within this series. Kind of odd, I suppose, seeing Batman and other franchises truly tried to replicate the previous success.
A New Frontier takes place some time after the original. The opening features Javi, at the beginning of the outbreak, right after his father has died, much to the chagrin of his family. (His showing up late, that is, not the death. Which should be to the chagrin of everyone.)
Of course, he at least arrive for the undying of his father, and thus his family soon was a lot smaller.
Fast forward, and things are looking even more grim. And yes, you soon will meet an older Clem, no worries.
The season is based on choices made in previous ones, though if you have not played those or, if like me, you're on a different platform, you can make choices to mirror what happened earlier. A nice touch.
Par the course for Telltale, you get less gameplay than the last game here. This might understandably irk some… many of our five readers as it is… but luckily there are redeeming features. You have a lot more dialogue choices, and more so than before, the black-and-white actions have become more black-dark grey-light-grey-off white-white. You can actually impact the story properly.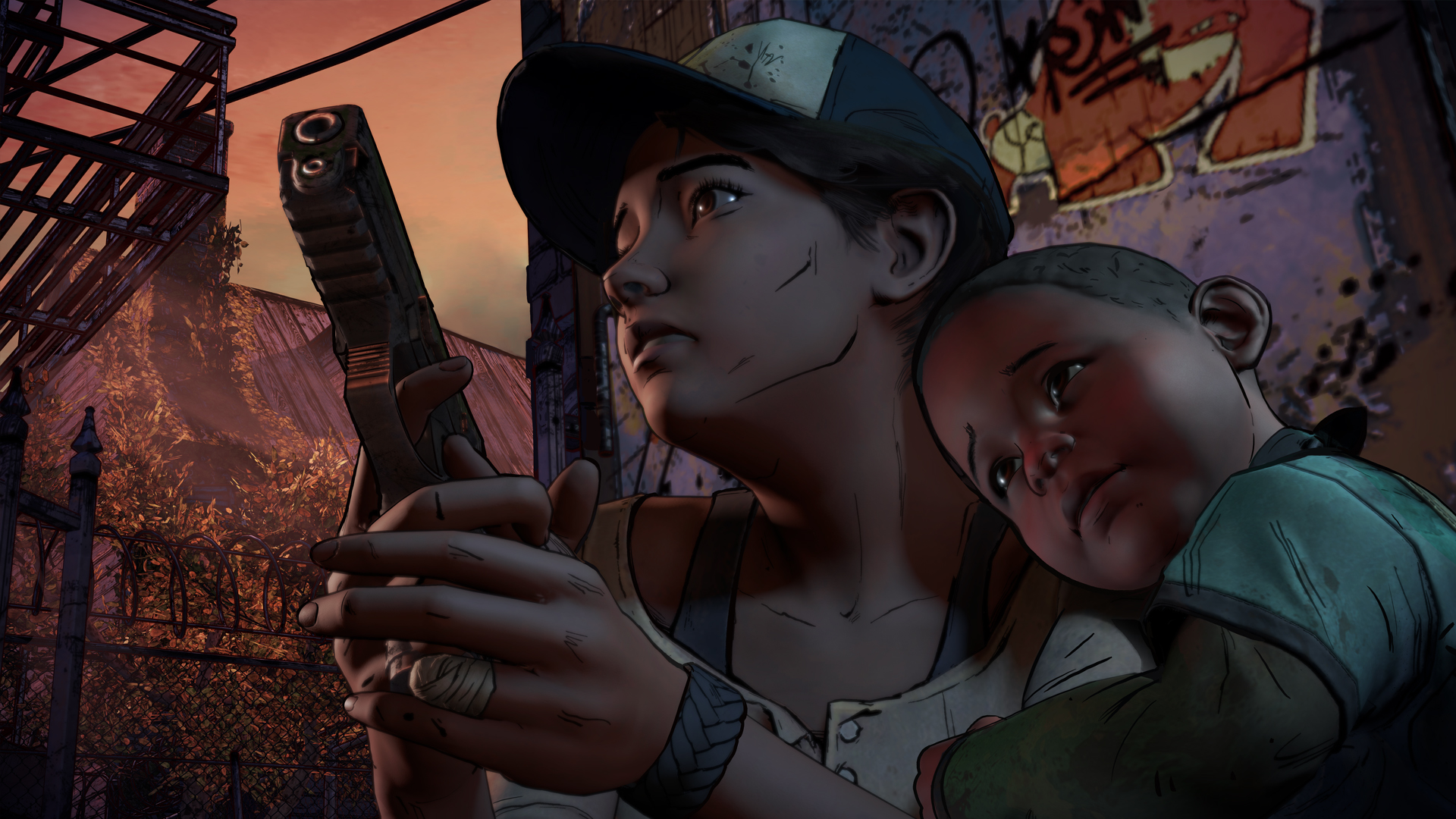 The animation and camera angles are cinematic. The episode(s) feel(s) a lot less… stiff, I suppose… than the previous Telltale games.
More importantly, with the deeper story, you start forming a bond with the characters. This is a well-told story, and the intro really puts your emotion in the right place from the start.
I gave this a shot on my iPad Mini—not as beefed up as the Pros, but one that certainly holds up with most modern games—and the experience was… mostly good. The not so awesome parts were some odd slow-downs (like in the menus, for whatever reason) and tiny text for dialogue choices. My vision is perfectly fine, but god, I felt like a 70-year old here, trying to read whatever was happening.
Surprisingly to me, then, after my recent Telltale experiences—I couldn't even bother to review Michonne—the story worked really well, but the technical sides were less than decent.
And, hey, you get two episodes here! Or you did, I don't think you do anymore, and you'll have to pay for the second one. But it was a nice thought at the time!
"Ties That Bind" is entertaining, and many steps up from most of Telltale's current game. That's good. Particularly if they will keep this going with other franchises.