Articles

Trip to LucasArts
Page One
Friday 8th June 2001, its 11:30 and Jake is somewhere in Petaluma. "Relaaaaax, Spaff," he says, "Pretend I'm not lost in my own home town."
Jake turns around and gets on the correct entrance to the freeway.
We are heading to San Rafael, California, to meet Tom Sarris, head of PR for LucasArts, and a friend of Mixnmojo. We met Tom at LucasArts, and after a brief tour headed out to Skywalker Ranch, where we had been promised lunch.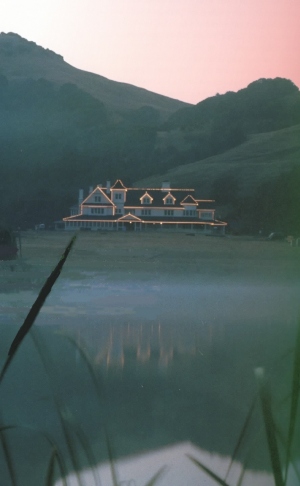 Skywalker Ranch
The ranch was a 5 minute drive up a very bendy road; these 5 minutes were spent badgering Tom to tell us about their future titles. We learned some funky stuff, but I have a feeling that posting it here would get me erased from history or some such punishment that is probably well within the power of George Lucas.
We drove through the entrance to the Ranch, which was reminiscent of Jurassic Park: a big, wooden, but very much automated gate. All that was missing were flaming torches. We proceeded up to the ranch itself, which was smaller than I expected, but as we all know, its obviously just the front for a massive underground lair of James Bond-style proportions. I'd be surprised if there wasn't an underground monorail system (something that I myself would definitely choose to have in my own evil fortress).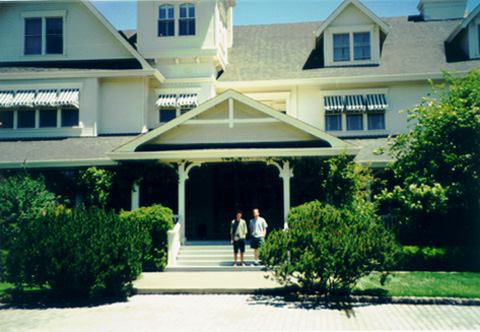 Anyway, it is located in the middle of a valley (Lucas Valley) and overlooks Ewok Lake, by the side of which is the Skywalker sound building. Tom mentioned that he thought it should have been called Lake Skywalker (as in Luke, get it?) and we all agreed that Ewok Lake sounded dumb, but, hey, it's still funny. :) The ranch itself was more of a house than a place where people work. It looks like an old Victorian house; the inside is decorated with antiques left, right, and center, and is all made from redwood (most of which was apparently recycled from an old bridge).
We went to the dining room and chose our food, which was excellent and incredibly filling. The menu was comprised of semi-casual American cuisine; steaks, pasta dishes, and the like.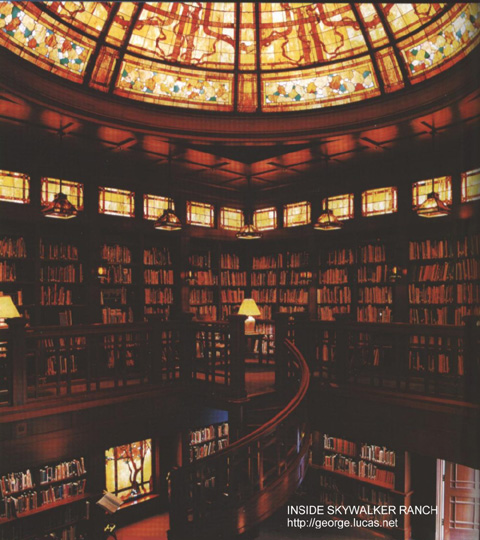 We were all eager to get on with the tour, so we didn't take long to finish our food, although not one of us could finish the huge portions. Tom guided us around the ground floor of the ranch -- non-employees are rarely allowed up or downstairs, and indoor photography is strictly banned. Like I said, before, it was disguised as an old antique house, but technology was cunningly hidden amongst the finely furnished rooms. Sound systems are hidden in the ceiling, and there are sci-fi-style contraptions like buttons to open and close doors.
In one room was a cabinet in which were some original props from LucasFilm movies. Indiana Jones' hat and 2 whips, the idol and pendant props from 2 of the films. We saw Luke's first and later self-constructed lightsabres, Darth Maul's battle-damaged sabre, the 1T1H3X8 number plate from American Graffiti. Also sitting in the cabinet was the toy spaceship that Luke plays with in Episode IV when he is on board the Millennium Falcon. We saw a viewing room, which was soundproofed and was probably acoustically worked on by Jake's dad (whos company contracted with THX as an acoustical engineer; he helped to make the ranch acoustically perfect). We saw the library, which is apparently featured in Outlaws.. or Maniac Mansion?. It has a stained glass dome in the top which illuminates the entire room in a soft orangey yellow colour.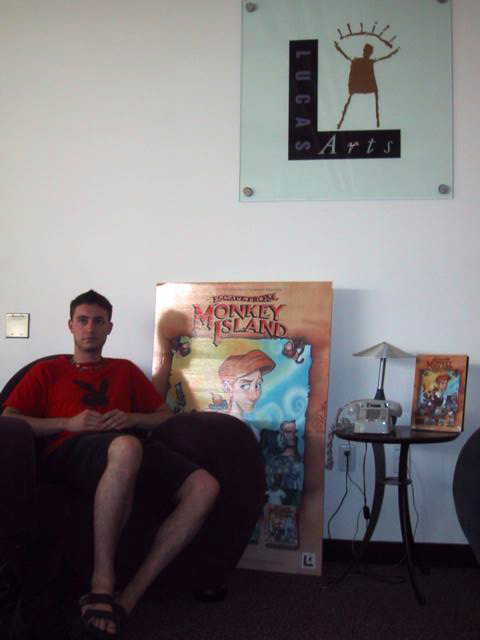 As you can see, we managed to get a few snaps outside the front of the building after we left. The ranch campus is actually incredibly large, and contains many of Lucas's companies. On the campus are a few bungalows where employees can stay if they are working long periods of time at the ranch. There's a softball field, where the 4th July festivities are held, as well as weekly softball games between company teams. Tom was due to play in a LucasArts vs. erm.. some other Lucas company game that very evening. The ranch also has its own security team, who chose the X-Wing as their logo. Not only that but Skywalker Ranch has its own firefighters and farmers. Or maybe they were just there? I don't know.
We were, for some reason, more excited about seeing LucasArts than seeing the ranch, so after visiting the gift shop and taking a look at the employee swimming pool, we headed back to LEC...