Featuring things we picked up from our visits during GDC week, 2007.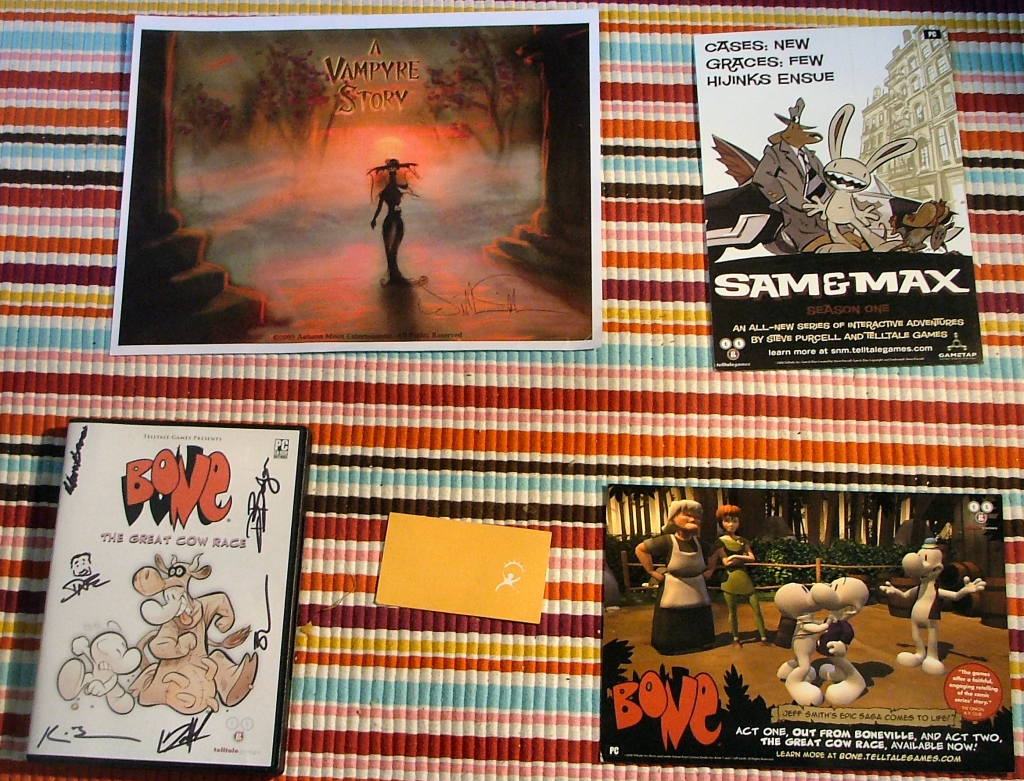 List o' booty
Sam & Max and Bone promotional cards, given out at GDC, as well as by Emily in the Telltale offices.
CD box copy of

Bone: The Great Cow Race

, signed by six people who worked on the game, including singer song-writer, Dave Grossman.

A Vampyre Story

concept art, signed by Bill Tiller. This was printed out on a laser printer, and it is very good quality. When I asked Bill to sign it he said "Oho! This is concept art for the sequel, when Mona has to wear a hat all the time."
LucasArts recruiting card. Fool all your friends by making them think you're a LucasArts recruiter!
Dandruff from Jake's scalp, perfect for voodoo doll (just kidding!)
What to do
To be in with a chance to win this delicious swag, we want you to produce some fan-work related to either A Vampyre Story, Bone or Sam & Max.
Here are a few ideas for entries:
A web-site
A piece of art-work
Music or remix
Inspired recipe
Costume
Fan fiction
Rules
Mixnmojo staffers cannot win this competition, for fear this will create wild conspiracy theories that we're corrupt. Mojo staffers are welcome to enter anyway, though.
You can enter as many times as you like. In fact, bonus points will be given for the prolific.
The winning entry will be judged on quality and originality. Even if you can't make anything of great quality, you may yet win on the back of a killer idea! Humour is also encouraged.
There is only one winner.
The results
This contest ended on Sunday, the 15th of July, 2007. The winners were: