"Wait, Remi, was it just you, some girl, and Gabez?" asked Jake. Ssh. You had to be there.
To begin at the beginning: it is spring, moonless night in the small town, starless and bible-black, the cobble streets silent and the hunched, courters'-and-rabbits' wood limping invisible down to the sloe black, slow, black, crow black fishing boat-bobbing sea... And all the people of the lulled and dumbfounded town are sleeping now.

-- Dylan Thomas, Under Milkwood
Such was the case as I walked through Aberystwyth at half past five in the morning, on the way to the bus-stop and my four hour journey to Cardiff, in order to attend MOJO FEST, the annual get-together of various Internet (let's be honest) nerds, last year having taken place in San Francisco, this year in Cardiff.
The journey began in Mid-Wales, which is entirely made up of small winding country roads, small churches, small birds and the sea. The bus was completely full, which made it an awkward inconvenience when I groaned, buckled over and tremblingly announced that I was "feeling a little bit sick," whilst almost simultaneously vomiting violently into a plastic bag. The girl next to me – the Queen of the Chavs – nearly ran off the bus in disgust.
I discovered later, when I had returned safely home, that I had a globule of vomit etched indelibly onto my jumper, that I hadn't noticed on my many bathroom trips, and that the other Mixnmojo people had not commented on, either because they hadn't seen it either, or because they were too polite to say anything. But there it was. And there I was in Cardiff. Like the survivor of a plague.
At the bus station I met my companions: Emma Russell, Scottish, who travelled to the far off land of E3 in 2001; and Remi Olsen, a Norwegian in America (hyphenated existence makes you feel like half a person), he of SCUMM Bar and Sam & Max review fame.
---
We compare hands: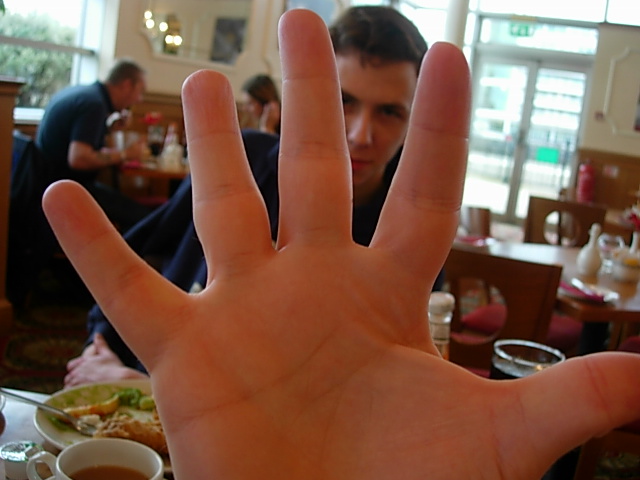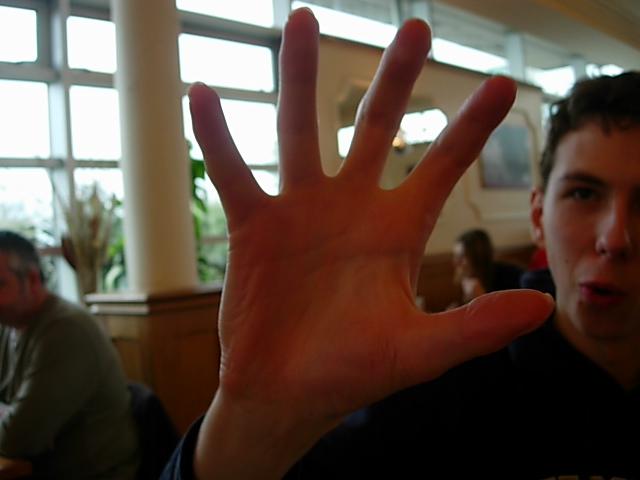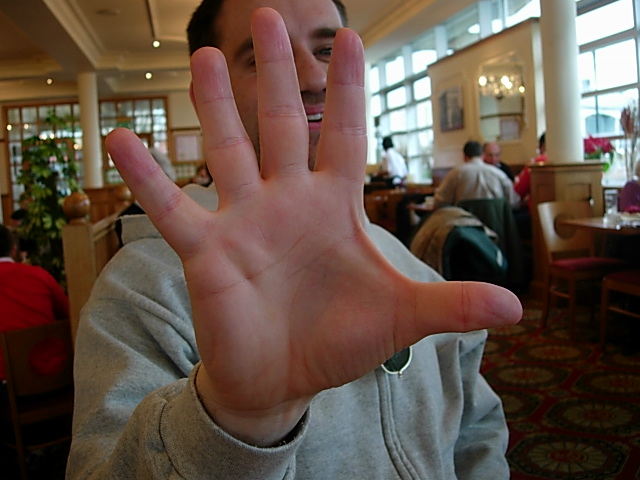 And try to draw Jake Rodkin:
---
Emma's Scottish accent, combined with my lack of aural skill, turned sentences like "coal fires have nice smells" to "my grandparents had nice smiles." And I couldn't understand anything Remi said, on account of him being a dirty foreigner.
We then met ElTee. When I looked directly at him, it appeared as if he was always moving towards me at a great speed, the wind racing through his long curly hair (though there was no wind anywhere else); but when I looked away and had him only in the corner of my eye, I realised that it was the universe around ElTee that was moving quickly, to catch up with his pace.
We moved by train and foot towards the bay, where the Welsh Assembly government is based, as well as of course Torchwood. There we found the Norwegian church ("It makes me feel so at home. You have no idea" admitted Remi tearfully) and a political rally with lots of Cymru Cymraeg Welsh people making speeches in Welsh. I got the word for "sea" and "thanks," but nothing else.
The British are famed for their fish and chips, but it can still be difficult to get a good fish and chips meal. Emma took us to the only half decent place in Cardiff; she is, after all, measuring by Scottish standards: and the Scots are the Queens and Kings of fish and chips.
Remi and Emma were charmingly sweet about things, but I was outraged! The chips were (I think) made in an oven, the mushy peas arrived separately, the lemon juice failed to arrive at all – and horror of horrors, they only have one type of tea. No Earl Grey at all!
The real Fawlty Towers moment came when we wanted to pay, though. The bill took so long to arrive that Emma made up a song about it: "where is the bill, bill, bill, bill, bill, bill, bill, bill, bill... Tiller!" Bill Tiller being one of the people both Emma and I had met (and we waxed lyrical about how nice he was – Emma wants to be adopted by him).
---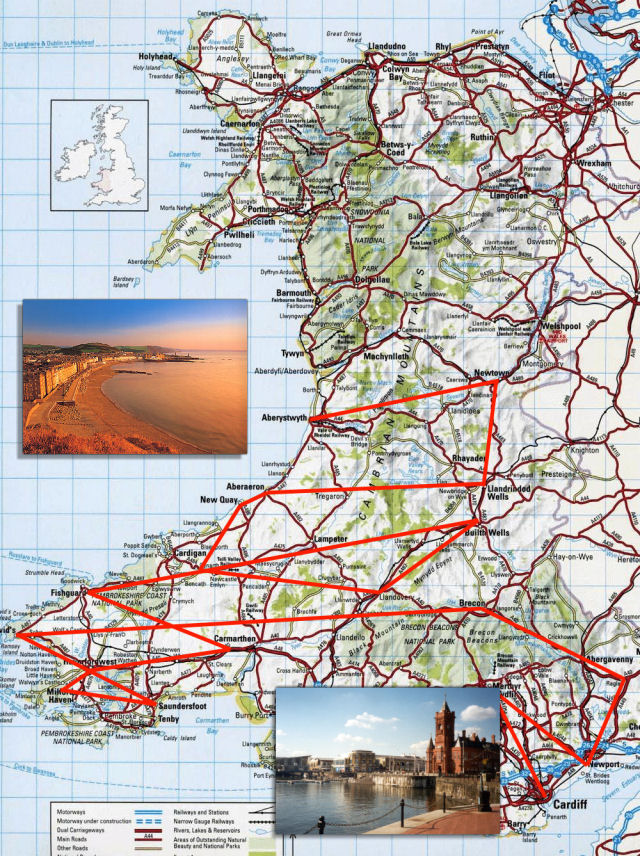 Key Welsh phrases:
Mae hi'n bwrw glaw
-- it's raining
Mae hi'n gymlog
-- it's cloudy
Mae hi'n ddiflas, on'd yw hi?
-- it's misserable weather, isn't it?
---
Once we had the bill the next task was paying it. This is when the trip turned into an adventure game: how do we grab waiter's attentions when they avoid all eye contact? At one point I was literally chasing after a waitress, but they disappeared into the kitchens before I could click on "talk to" and then "waitress." At one point we managed to get the attention of a waiter, who looked at us with a bewildered expression and shooed us away with his hands. Crazy town!
"F***ing A," growled Remi, standing up and sliding out a credit card from his jacket in slow motion and frisbeying it across the room to the cashier. "Keep the change," he barked as Emma and I followed him out of the restaurant like puppies.
After lunch we journeyed south (through roaming Rugby crowds) to Emma's house which used to be a country farmhouse cottage, where we enjoyed tea and traditional Bara Brith and Welsh Cakes. There we talked about Ron Gilbert's laugh (it is the end of a laugh rather than the beginning of one: a long high pitched sighing chortle); how Remi is proudly clad in Double Fine buttons; how moral actions are always primarily based on self-focused thoughts; and many other fanciful topics besides.
Meeting people from the Internet always delights me. It's amazing how jolly and friendly people are, and how easy and natural the conversation it is (prologued, as it is, by countless hours of Internet conversation.) And it's glorious to be able to sing the praises of computer games with people who share the same thoughts: like our conversation about Monkey Island 2, which was mostly made up of nostalgic sighing.
After tea I announced (with regret) that I had to leave in order to catch by bus back to Aberystwyth. The simple direction of "go down the road to the bus-stop" had to be supplemented with a detailed map and patient explanation before I felt confident to set out into Cardiff on my own; but I got to the bus and thence to the next bus-stop; and thence to my own university room: shower, hot-chocolate, slippers, dressing gown and teddy-bear.
"What an adventure!" I remarked to Teddy.
Thanks to Emma and Remi for meeting me at 10 o' clock, even though they had gone to bed late the night before because of Emma's band's last gig – also thanks to them for entertaining me and showing me around though they must have been tired; and thanks to Max for making tea and for his pleasant t-shirt; and thanks, lastly, to everyone I met and talked to, for the memorable conversation and enjoyable company.
Aberystwyth, Wales
24th February 2008