Telltale's history of poker games has been kind of a bumpy ride for me. Telltale Texas Hold 'em might not have been the greatest thing the world has seen, but I found it amusing enough and a good "coming out" game for the company. Poker Night at the Inventory, meanwhile, did little to excite me. Flawed AI, long winded chatter repeating itself way too often... It wasn't something I really ever wanted to go back to after the initial play-through.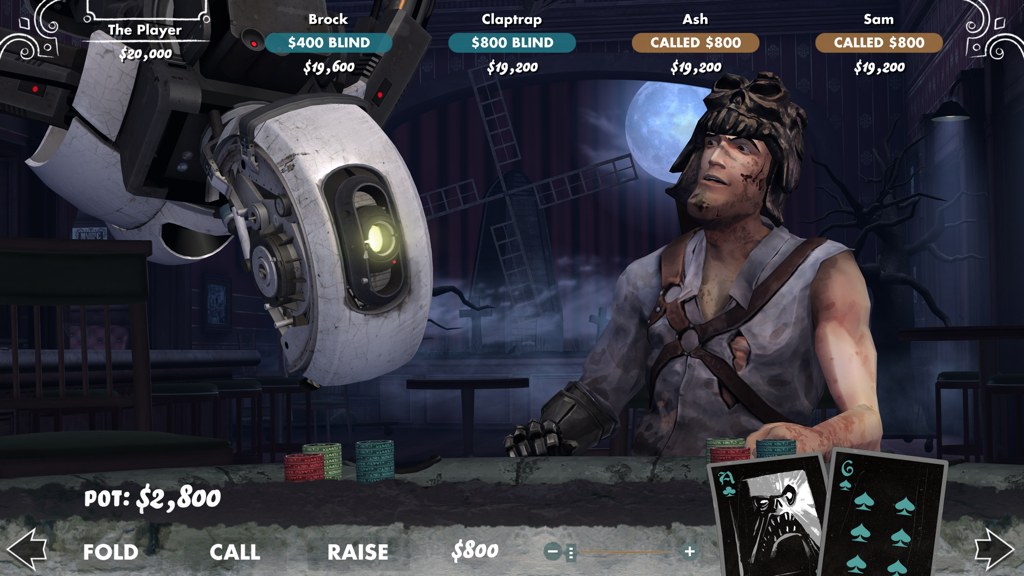 So here we are. Poker Night 2, Telltale's third poker game. It is very (very) similar to its predecessor, but I found it to be quite a bit more enjoyable. There are bugs that pull the overall impression down, but also enough improvements over the first game to make this a worthwhile sequel.
It certainly opens with a nostalgia filled punch: In the first two minutes you'll catch glimpses of Skun-ka'pe, Doug, and Van Winslow. Seeing Sam strumming the banjo at the table... Yes, Telltale definitely is playing on their fans's heartstrings, and why not?
The majority of the main characters are again from games outside of Telltale's stable, something that was one of my issues with the first game. The mix of them didn't seem to blend too well, though that was possibly more an issue with me not knowing the characters well enough. It seems like an odd prerequisite to know every character though, but either way…
The mesh-up works better in Poker Night 2. I may not have much knowledge of The Venture Bros.'s Brock or Claptrap from Borderlands, but that doesn't really seem to matter. The banter flows better, and it seems more like idle poker chit-chat than what seemed like full-on conversations in Inventory. The chatter never gets in the way of the poker here, and you feel less like an outsider if you don't know all the characters.
Really, I found the dialogue amusing. Written by Mike Stemmle, there are some Sam and Max lines that are particularly memorable here.
Good as the writing is, it is partially spoiled by some odd bugs. Certain dialogue blocks re-start midsentence, which is more than a little jarring. One-liners -- often uttered when a hand is won -- are also repeated frequently, something that comes off as rather artificial. Luckily, one-liners aside, there is a lot less repeated dialogue than there was in the first game.
And one mention of Ash: He may not be voiced by Bruce Campbell -- a controversy to some -- but Danny Webber does an admirable job re-creating the character. It's obvious it's not Campbell, but Webber still captures Ash well.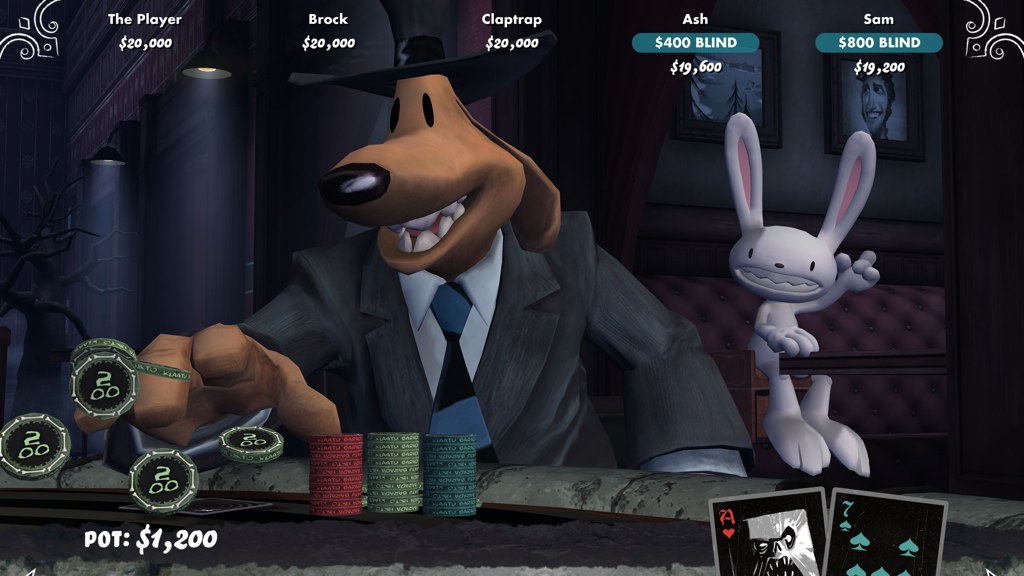 But I digress, and back to the actual poker. Here you can choose between Texas or Omaha hold 'em, and luckily the opponents's AI is quite a bit better than last time around. There is no choice of difficulty level, and you might not be facing the most sophisticated players, but I would still compare this to playing against your friends after a six-pack or two. The poker is as casual as the chit-chat, and each player seems to have a distinct style of playing.
Being able to buy characters drinks is also a fun addition. Get them drunk enough, and they will start showing their tells more liberally.
The "Bounty Unlock" feature has been touted fairly heavily by Telltale, and... I suppose some of you might care about Team Fortress 2 items or -- in my case -- Xbox Avatars, but it's not something I can get too excited over. I might be in the minority there though.
Atmosphere wise the game is everything it should be, at least in the artistic sense. The music -- consisting of re-arranged cues from the represented games, as well as original compositions -- is fitting, and there are plenty of subtle graphical details that easily could be missed. Have a look at the walls and you'll see pictures of some familiar characters, for example.
A bit too often you will see some lags and skipped frames, at least in the Xbox version. That does kind of ruin the mood, and hopefully it will be patched soon.
Bugs aside -- and they do pull the overall impression down -- I found Poker Night 2 to be a fun game. It isn't that different from its predecessor, but the improved AI and dialogue do make a difference. I wouldn't necessarily sell my soul to play it, but it is amusing enough to be worth the price of admission.
Finally: The actual biggest issue I have with Poker Night 2 is not the fault of the game. Rather, after seeing Sam and Max in action again, it reminds me of how much they need a sequel. Nostalgia attack all the way.
Mr Manager would like to point out that Jake is now Telltale's "Creative Director". Mojoer making it big!