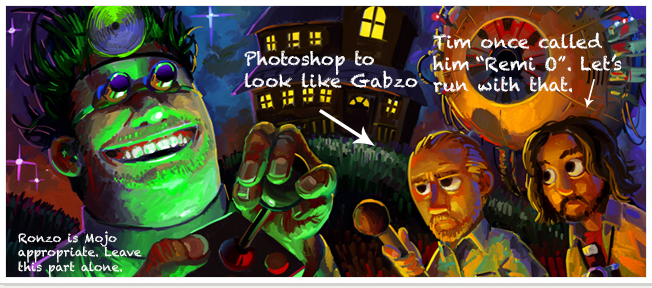 Lucasfilm's LucasArts page
has been updated with their recent published hits such as Tiny Death Star and Angry Birds Star Wars, but also remembers (but doesn't mention that they once developed) adventure games such as Monkey Island, Grim Fandango, and Full Throttle.
Oh, and Sam & Max also gets a mention via a screenshot at the bottom of the page. Except it's the same screenshot from Sam & Max Season One that was erroneously printed as a Freelance Police screenshot in the Rogue Leaders book.
I'd email LucasArts and let them know about the mistake, but I'm not sure if anyone even works there anymore.
Comment from The Tingler
"
The LEGO Star Wars games are some of the most beloved published by LucasArts
"
Except they didn't publish the first one because they didn't think it was going to be any good or popular.

Comment from spiralout
"LUCASARTS' GRIM FANDANGO WAS THE COMPANY'S FIRST GAME TO BE RENDERED IN 3D POLYGON GRAPHICS, WHICH COMPLEMENTED ITS UNIQUE ART STYLE"
Wait, that's not right...

Comment from Shmargin
I hit the comm
MrManager
HAH

(Just that.)
I hit the comment button to post that exact same comment.

Comment from Remi
HAH
(Just that.)

Allowed bbcodes:
[i] - Italized text
[b] - Bolded text
[url=http://example.com]Name[/url] - Creates a hyperlink
[quote=author]Quote[/quote] - Creates a quote box
[del] - Strikethrough
Fuck the Thumb, I'm heading to Tasty-BaconMojo!
Staff Blogs
Wait... - "Does anyone from Mojo actually have a blog?"

3 hours, 5 minutes ago